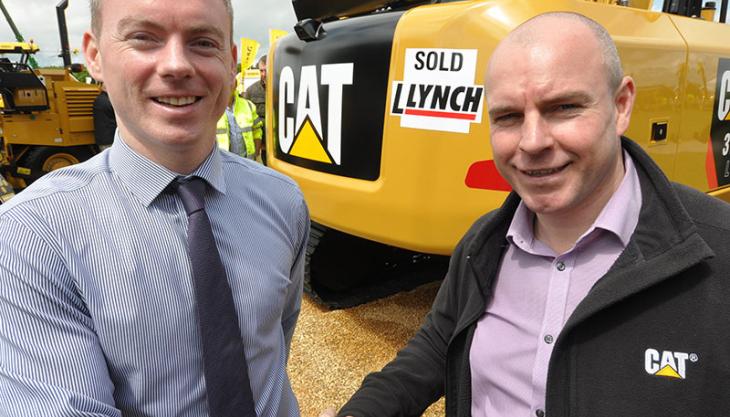 Caterpillar dealer Finning secures two major equipment deals worth more than £12 million
UK and Ireland Caterpillar dealers Finning have secured major equipment deals worth £12.3 million with two leading UK plant hire firms.
B&T Plant Hire, one of the most prominent players in the South East, have recently completed a 90 machine deal worth £6.5 million, while L Lynch Plant Hire have this week signed a £5.8 million deal comprising 50 Cat 320EL hydraulic excavators.
B&T Plant Hire's investment includes 84 excavators, ranging from Cat 303.5 minis to Cat 320EL RR large machines, plus four Cat 730C articulated dumptrucks and two Cat 950K wheel loaders.
Operating out of their two main depots in Surrey and Kent, B&T Plant Hire have maintained 30% growth annually for the past three years, and faced with further demands from its growing customer base, the firm has opted for a diverse range of equipment to further its versatility.
Commenting on the deal, Andy Davies, strategic account manager for Finning, said: 'B&T Plant Hire's recent success demonstrates how their business is benefitting from the strengthening plant market in the South East, which has gone through eight consecutive quarters of growth.
'With this deal in place, we are committed to making sure the firm's upward trajectory continues by supplying industry leading Cat equipment, coupled with Finning's service and equipment management solutions.
'Increasing demand in the South East construction market means that it is essential we enable the plant sector to thrive by maintaining our sold machines' productivity and efficiency levels at all times.
'With B&T also opting for support from our team of Finsight engineers, it allows us to provide them with real-time data on their fleet's fuel efficiency, utilization and location.
'At Finning, it's not just about sales, we are driven to constantly improve our customers' operational profitability and look forward to working in partnership with B&T Plant Hire to achieve this.'
Commenting on L Lynch Plant Hire's purchases, director Merrill Lynch said: 'This investment is indicative of the growing demand in the plant hire market due to huge UK projects, including Crossrail, M25 widening and moving forward HS2.
'The Cat 320EL excavators offer our customers tremendous value for money in terms of productivity and fuel efficiency, whilst providing Lynch with a strong return on investment.
'The service support offered by Finning was also instrumental in our decision to invest in these Cat machines. It is essential that we hit our 4h delivery service level agreement, and we can rely on Finning to help us deliver this. With depots stationed throughout the UK, the fact that Finning are also nationwide gives us confidence that we can meet our customers' demands wherever the location.'