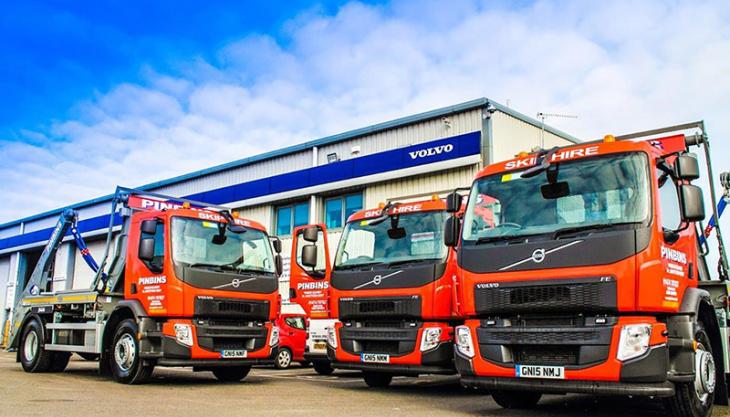 Skip hire firm purchases four Volvo FE 4x2 skiploaders from MC Truck and Bus
PINBINS, the skip hire division of Pinden Ltd, have taken delivery of four Volvo FE, 4x2 rigid skiploaders (designed for 18-tonne gvw operation) from Volvo dealers MC Truck and Bus.  
The new vehicles have been configured for skip hire duties by Boughton Engineering of Burton-upon-Trent. The three Volvo FE-250 units are equipped with day cabs, while a FE-280 features a sleeper cab, 3.7m wheelbases and steel rear springs. The Volvo skiploaders are all powered by a six-cylinder, 8-litre D8K engine and benefit from Volvo's I-Shift automated transmission.
Steve Bishop, director of Pinbins, said: 'All vehicles are only as good as the main dealer support service you receive. We are fortunate that we have an excellent relationship with MC Truck & Bus and throughout the past 10 years they have consistently dealt with all of our requirements properly. This level of support is crucial when running a large fleet and is now instrumental in our purchasing decisions.'
Such decisions over the past 10 years now see Pinden operate an 80-strong fleet, of which 52 units are Volvo – 30 FE and FL skiploaders, nine FMX hooklifts, three FH tractor units and 10 FM tippers.
'Uptime is extremely important and in the case of the new FE skiploaders the payload capabilities and manoeuvrability ideally suit the business…Furthermore, on average, the vehicles are returning fuel consumption figures in the order of 9 miles/gal, which is close to what we achieved with the smaller FL units,' explained Mr Bishop.
Founded in 1929 as a demolition business, Pinden have grown to become one of the leading waste-management and recycling operators in the South East.
'In 2005, we decided to diversify into the waste-management sector,' continued Mr Bishop. 'This also coincided with us buying our first Volvo - an FL6 - which was suitable for the work we undertook and it gave us reliability and longevity. This was the beginning of what has been a strong relationship between Pinden, Volvo and MC Truck & Bus.'
Pinbins currently operate from three depots in Detling, near Maidstone, Orpington and Longfield. 'We generally work within a 30-mile radius of each depot so we can cover the majority of Kent and South London,' said Mr Bishop.
'All waste is brought to the Longfield site for processing, where we recently invested in a new recycling system. We are very proud of the fact that we can manage to recycle all of our waste meaning nothing goes to landfill. Our recycling shows that we are able to utilize our end-of-line product as fuel for European power stations, while we segregate other materials and recycle them for further processing or to create a reusable product.'