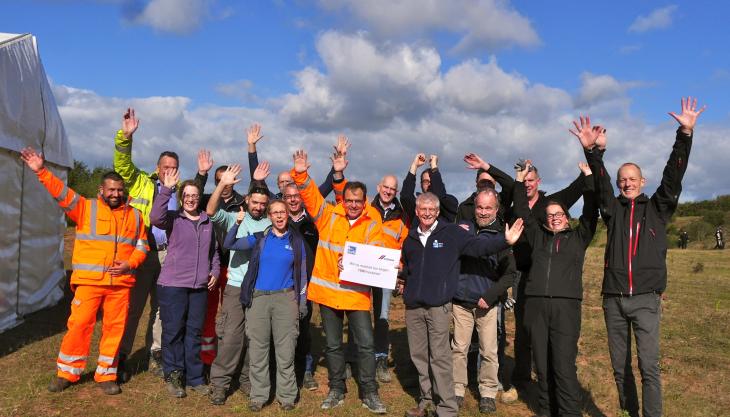 Restoration of 50 former quarry sites creates 1,000 hectares of land for nature in just eight years
THIS month, the restoration of Hopwas Quarry, near Tamworth, marks the completion of an ambitious project to create 1,000 hectares of land for wildlife from former quarry sites.
In 2010, CEMEX UK and the RSPB made a commitment to create 1,000 hectares of priority habitats within a decade.
Special attention was paid to restoring the land in a way that would make it appealing and suitable for some of the UK's most threatened species.
The restoration has included 50 sites across England, Scotland and Wales, and has created a diverse range of much-needed habitats to encourage nature to return.
The 1,000 hectares includes nearly 600 hectares of grassland, more than 177 hectares of woodland, 100 hectares of heathland and 190 hectares of ponds and open water.
The work of specialists at the RSPB and CEMEX has successfully transformed the 50 sites, which are already providing homes for 46 threatened species of bird, including twites, choughs and turtle doves.
The sites are also creating homes for other rare species such as otters, red squirrels and water voles, along with plants and amphibians. As each site matures it will act as an important haven for even more species.
In addition to welcoming threatened species, the land restored by the partnership has attracted more than 750,000 human visitors, highlighting the importance of restoration in creating spaces that also provide opportunities for local communities to discover nature on their doorstep.
Martin Harper, the RSPB's director of conservation, said: 'Nature is in trouble, but by restoring or creating habitats we can often reverse the population declines of threatened species while keeping common species common.
'We all have a role to play in rising to this challenge: government, business and civil society. In 2010, the RSPB and CEMEX set an ambitious goal of restoring 1,000 hectares of land over a decade, and in less than eight years we have met that target.
'Working in partnership with CEMEX, we have shown how land can be transformed from being an active quarry into a vibrant home for wildlife, and we hope that our experience inspires others to play their part in restoring nature.'
Andy Spencer, director of sustainability at CEMEX UK, commented: 'The partnership with the RSPB has allowed us to enhance the natural environment surrounding our operations.
'While supplying our customers with concrete, cement, sand and stone we also aim to balance the needs of our operations with the protection and enhancement of the natural world. The RSPB has been pivotal in helping us to achieve this aim.
'The 1000th hectare that has just been created is a significant and outstanding milestone, and our partnership to date has helped create some amazing places for communities and nature.'
The first hectare to benefit from the partnership in 2010 was Eversley Quarry, in Hampshire, where, over the years, a mosaic of different habitats has been created alongside community sports facilities.
Work is now under way on the 1,000th hectare at Hopwas Quarry, an exhausted sand and gravel site. Heather cuttings containing seeds and other flora from the neighbouring Site of Special Scientific Interest (SSSI) have been spread over part of the land to help create new heathland typical of the surrounding area.
A film tracking the progress from the first hectare to this latest transformation is available online at: https://www.youtube.com/watch?v=1uC5QOKywNQ