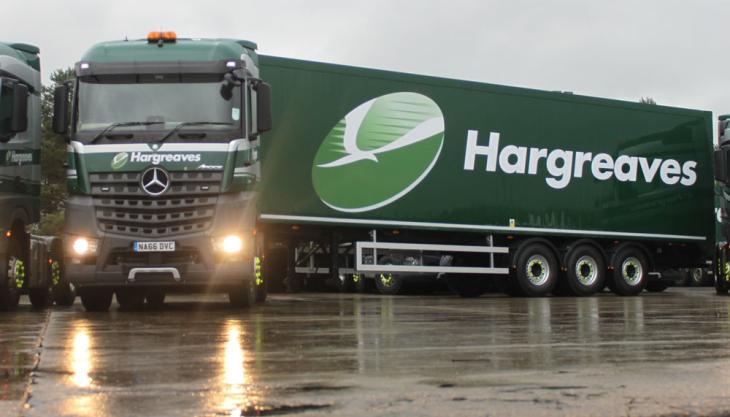 BigChange awarded mobile technology contract for company's 500-strong truck fleet

MOBILE workforce management technology specialists BigChange have won a contract to supply Durham-based mining, energy and logistics company Hargreaves Services plc with their three-in-one JobWatch system, across the company's 500-strong fleet of specialist logistics vehicles.
The turnkey solution from BigChange is introducing a paperless revolution at Hargreaves Logistics, who transport more than 7 million tonnes of bulk materials each year.
Hundreds of drivers are being equipped with a Samsung Android tablet that manages receipt of job instruction, electronic proof of collection/delivery, timesheets, electronic start-of-day vehicle walkaround checks, driver behaviour scoring to promote safe eco-driving, tachograph interface, and health and safety procedures. The system is also an effective vehicle-tracking system providing real-time location updates.

The system has been fully integrated with Hargreaves' Stirling Solutions back-office transport-management system, meaning that planned collections and deliveries are automatically pushed through to the JobWatch system.
On logging on to the JobWatch app at the start of each day, drivers are guided to start their timesheet, conduct a walkaround check that meets DVSA requirements (recording, photographing and alerting any defects) and have instant access to the day's run manifest.

According to Hargreaves Logistics, the JobWatch system is saving the company hundreds of thousands of pieces of paper annually and has significantly improved back-office administration.
Drivers used to amass multiple paper forms for each delivery and collection, including delivery notes and weighbridge tickets. On return to the office, these required manual processing, including scanning, filing and sending the originals back to the customer.
With JobWatch, the workflow is paperless. Drivers receive accurate loading and unloading instructions, site staff complete the 'sign on glass' proof of delivery, and a time, date and location watermarked photo of the weighbridge ticket is captured by the driver.
Proof of service is instantly relayed to the back office allowing for prompt invoicing. In addition, Hargreaves Logistics are benefiting from 24/7 on-demand RoadCrew customer service for all back-office users and drivers, including remote support and management of all tablets.

Andrew Spence-Wolrich, managing director of Hargreaves Logistics Division, commented: 'JobWatch is bringing about a digital transformation for our logistics business. The JobWatch mobile app has streamlined workflows and enabled our drivers to be connected in real time with our back office.
'Flexibility and integration with Stirling Solutions' transport-management system was what attracted us to JobWatch; for example, we're using the system to manage TASCC jobs and paperwork trails required for audit. This requires careful cleaning of trailers for loading with food for human consumption. JobWatch rigorously manages the workflow and ensures photographic proof of the process is saved.'

Drivers' use of the timesheet and expense functionality on the app allows Hargreaves' Finance team to efficiently allocate costs to vehicles and drivers, and run payroll. A timesheet reconciliation report combines drivers' hours, tachograph information and vehicle-tracking data. At the end of each journey drivers view their behaviour score, allowing them to track their personal driving improvements and ranking.

Martin Port, founder and chief executive of BigChange, commented: 'Hargreaves are embracing the JobWatch system across their logistics operation and are reaping the rewards from the technology. They are a truly future-focused business and we look forward to further developing our relationship.'