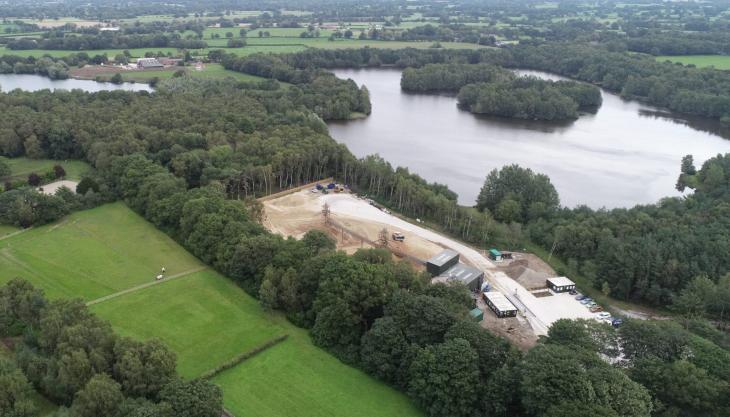 Sibelco's new UK silica sand site officially inaugurated with both live and virtual opening events
ON 8 September 2020, Sibelco's new Rudheath Lodge site, near Cranage, in Cheshire, was officially inaugurated with a live ceremony, followed by a virtual opening event the following day.
The new site, which will produce four grades of silica sand, mainly for the sports, leisure and construction industries, was introduced by the local site management team.  
The 'live' opening, which saw a small group of people invited on site, commenced with a ribbon cutting ceremony and welcome speech by UK country manager Mark James. Next, the attendees were taken on a guided tour led by site manager Kaz Jinks, who gave an extensive introduction to the new site and its way of working. 
Amusingly, the new site has two sand towers which have been named Davey Tower and Neil Tower in recognition of Sibelco employees Richard Davey and Andy Neil who led the engineering side of the site design and construction and have been with the company for 51 and 38 years respectively.
On 9 September, Adam Daniels, area and country operations manager, and John van Put, group chief operations officer and chief technology innovation officer, kicked off the 'virtual' opening by recognizing the hard work done by Kaz Jinks, who is one of only a handful of female site managers at Sibelco.
'I'm very happy that we have another female site manager at Sibelco,' said Mr van Put. 'I hope that in the coming years we will be able to welcome more women to senior operational roles. Kaz and her team have done a great job in getting the site ready in such a short time following the grant of the operating permit.'
The online audience was then introduced to the new Rudheath Lodge site by Mr Daniels, Ms Jinks and operations manager Michael Davies. Photo and video materials were used to mimic the real-life experience of entering the site, which is encircled by trees and other natural boundaries to minimize disturbance to the local neighbourhood.