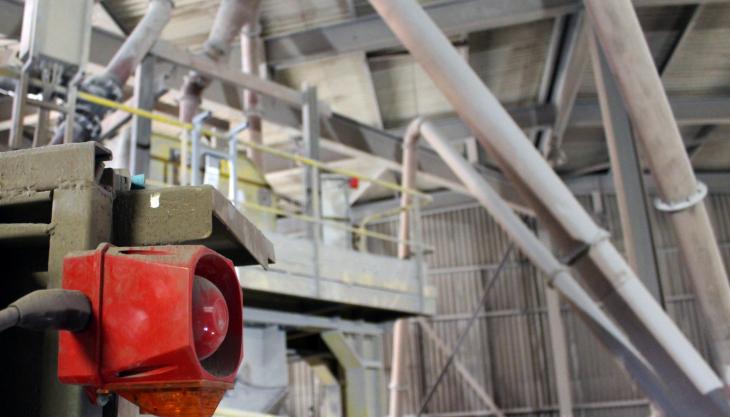 Eaton launch industrial sounder and beacon range for the quarrying and aggregates industry
EATON have launched a new range of sounders and sounder beacons for the aggregate and quarry Industry. Manufactured to IP69K, the X10 range provides one of the highest-rated products against dust ingress. It can be used on machinery, as part of a warning system or mounted on a vehicle where it can withstand a washdown with a jet wash of up to 5 bar.
Encased in a fade-resistant polycarbonate and ASA housing, the X10 operates in the most demanding environments, protecting people and property in temperatures from –40 degrees C to 70 degrees C and 100% humidity.
After three years in development and rigorous third-party testing, Eaton say X10 offers the reassurance of a 10-year warranty yet is priced for plant managers with hard-pressed budgets who do not want to compromise on safety and performance.
James Morgan, product manager at Eaton, said: 'We set out to design a new range of beacons and sounder beacons that answered how to best prevent unwanted downtime. For that we had to consider a wide variety of environments; from hot, dusty enclosed spaces through to cold and corrosive ones, it is vital that safety devices remain operational and can withstand these extreme conditions. We have designed X10 to keep running for years to come, whatever environment it finds itself in.
'For the industrial control and processing market, we found that with traditional Xenon flash sounder beacons on longer cable runs, maximum loading can be difficult to calculate due to the large in-rush current.
In designing the X10 with LED technology and low-inrush hardware, we have reduced the risk of overloading the power line which can cause the voltage to collapse and the notification devices to stall.'
Mr Morgan continued: 'X10 has been designed with Eaton technology that is used in current-limited fire-system devices where low in-rush current on start-up is essential. We have found that it is equally essential on industrial warning systems that are designed to protect people and equipment.
'That's why we think it's important to quote the start-up current for our range and it is something that I would urge any specifier to consider in order to avoid any potential problems after installation.'
As a modular system, X10 helps keep inventory low, with beacon swap-out taking under 30 seconds. Offering 144 different combinations, X10 is said to provide the largest range of voltage, sound output, flash or tone combinations currently available. It can be used in a new installation or it can be configured to mimic an existing set-up offering a quick upgrade to the latest tones and features.
Available in three housing sizes with increasing sound output up to 120dB(A), the range is available as low-voltage DC (10V–60V), low-voltage AC (10V–30V) and AC mains for 115V or, by simply flicking a switch, 230V.
Finally, there are six quick-fit beacon colours to match specific site warning and notification protocols. If the LED beacon is damaged, it is simple to replace with no need to disconnect the circuit and replace the entire unit.
Mr Morgan concluded: 'When you consider that sounder beacons are used for safety-critical communications, you simply can't be let down by a faulty product or old technology. X10 will keep working from initial start-up for years to come and is easy to maintain in the tough environments of industrial process and control.'