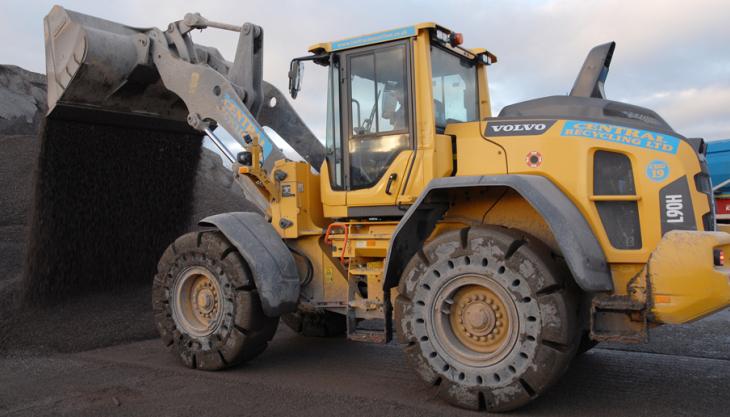 High performance and reliability key factors in purchasing L90H wheel loader
TEN years after purchasing a Volvo L90F and having clocked up 21,000 working hours, Falkirk-based Central Demolition have strengthened their equipment fleet with another wheel loader from the Swedish manufacturer – the L90H. 
The new 12-tonne loading shovel has been supplied complete with a long boom option, solid wheel and tyre assemblies, a RDS weigh loader and a 2.4 cubic metre-capacity general-purpose straight-lipped bucket. 
'Both the size of the machine and bucket are key to handling the variety, weight and density of the materials arriving at our site,' said Murray Brodie, fleet and plant service manager for Central Demolition.
'We receive a range of materials from our demolition contracts, including concrete, bricks, wood, soils and inert industrial waste arriving from our fleet of skip lorries and 8x4 hook lift container lorries. For us, the L90H is an optimum sized loading shovel for accessing every area of our recycling yard including the sorting bins.'
The L90H unit supplied to Central Demolition is powered by a Stage IV Final Volvo six-litre engine that develops 186hp with a maximum torque of 853Nm at just 1,400 rev/min. The machine has been designed to deliver increased fuel economy; for example, fuel savings are gained by an eco-pedal feature that encourages the operator to run the loader at its optimum rev/min. 
The optional long boom provides an extra 430mm of load over height under the tipped bucket with a generous full-turn tipping load of 8,000kg. Working 10h daily shifts, the L90H loading shovel carries out a number of waste-management duties at the recycling yard from loading incoming materials into a primary crusher and separating commodities to stockpiling processed materials and clearing the sorting station bays. 
The latest machine joins an already strong Volvo mobile plant fleet at Central Demolition, which includes a dozen excavators ranging from 8 tonnes to 46 tonnes, all specified for demolition duties and high-reach applications.