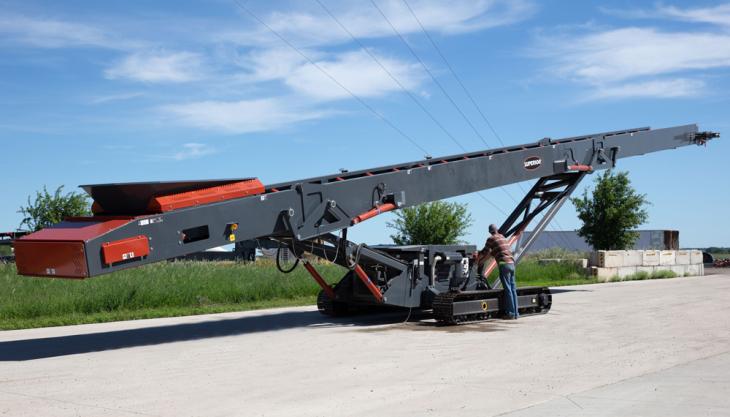 Company extending its portable conveying solutions with new tracked stacker and feed hopper units
MINNESOTA-based Superior Industries Inc., manufacturers and global suppliers of bulk material processing and handling systems, are launching two new tracked conveyor models. Joining the company's existing line of portable conveying solutions are a 75ft (23m) tracked stacker and an 8ft x 16ft (2.4m x 4.9m) tracked feed hopper.
Capable of handling up to 907 tonnes/h and weighing 15,420kg, the tracked stacker unit (pictured) will be one of the heaviest models available in its class. The machine features cross-bracing built into its undercarriage for structural rigidity and stable tracking, with hydraulic power to drive the tracks and power conveyor folding and discharge height. 
The tracked portable feed hopper unit processes up to 725 tonnes/h through its 8 cubic yard capacity reinforced hopper. A bi-directionally dumping grizzly equipped with adjustable bars can be tilted to any one of five preset angles, whilst the hopper's drive and backstop are hydraulically controlled, as are the discharge conveyor's fold and raise features.
Both the stacker and the feed hopper are equipped with Superior-brand conveyor components, such as idlers, pulleys and Exterra primary belt cleaners. Several units are now in stock and available for immediate delivery direct from Superior or one of their many dealers.