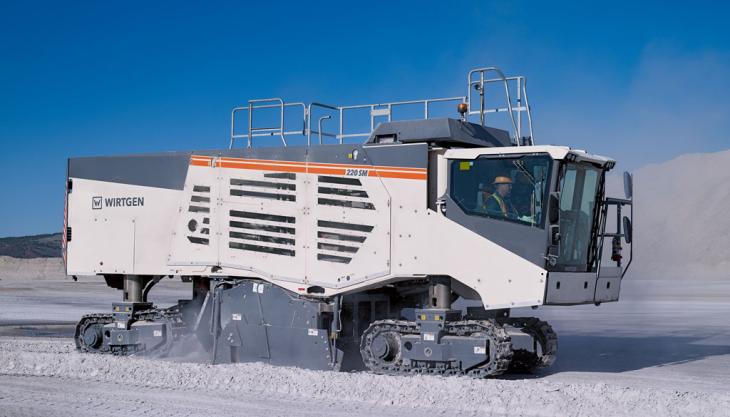 Latest 220 SM/220 SMi machine designed for use in small and medium-sized extraction operations 
WIRTGEN have launched the new 220 SM/220 SMi surface miner which has been designed specifically for use in small and medium-sized extraction operations, as well as for routing work and infrastructure projects.
The 708kW machine – which has a cutting width of 2.2m and cutting depth of up to 300mm – can be used in rock with a uniaxial compressive strength of up to 50MPa. The extracted material is deposited behind the unit in a windrow and then loaded on to trucks by wheel loader. 
According to Wirtgen, selective extraction makes it possible to extract raw materials with a high level of purity. The use of surface miners reduces the amount of equipment, maintenance and time required compared with drilling and blasting or rip-and-stack operations. In addition, refraining from drilling and blasting makes it possible to efficiently remove materials close to industrial sites and other infrastructure.
The 220 SM/220 SMi is compact in dimension and features smooth, hydraulic, all-track steering, providing a tight turning radius. A key feature of the machine is its optimized cutting drum, which is specially designed for challenging windrow applications. 
The high, narrow sides of the holder base are said to ensure that material flows smoothly and energy consumption is kept to a minimum. This reduces wear and tear on the housing, holders, point-attack cutting tools and scraper blade. 
The surface miner also benefits from the company's LEVEL PRO PLUS levelling system, which has been proven in road construction and mining applications. A flat or inclined formation level can be created with absolute precision thanks to side-plate scanning and a cross-slope sensor. The machine is also ready to be equipped with GPS or laser control.
Safety was a key consideration in the development of the 220 SM/220 SMi and the machine has a ROPS/FOPS cabin to protect operators and maintenance personnel from external hazards.