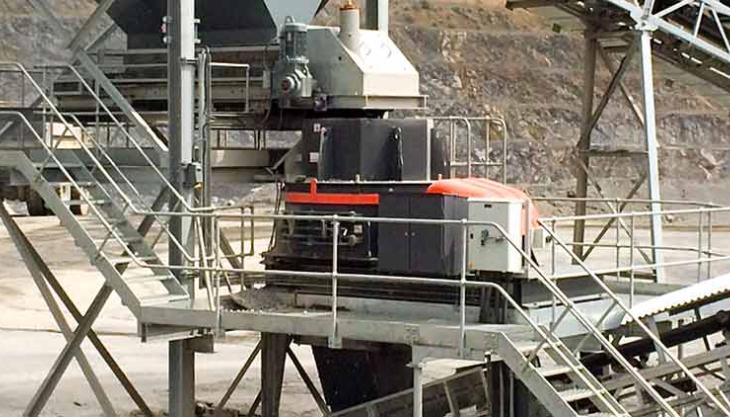 Glendinning boost their sustainability credentials through limestone sand manufacturing capability
E&JW Glendinning, the Devon-based independent suppliers of quarrying and concrete products, have successfully begun manufacturing sand from limestone at their Linhay Hill Quarry, near Ashburton, in Devon.
The company has produced a washed limestone sand for many years, but only on a limited scale, producing sufficient volumes to supply no more than their own in-house concrete plants. However, recent technological advances in crusher design have allowed Glendinning to produce much greater quantities on shorter production hours.
The use of a new CV217 vertical-shaft impactor from Sandvik Construction has allowed the company to successfully produce sufficient sand for its own requirements, and in the future it hopes to offer surplus manufactured sand to other external cement manufacturers.
Introduced in 2002, Sandvik's line of autogenous crushers utilize a rock-lined rotor to accelerate the feed material. It is then impacted in a highly energized rock-lined crushing chamber which collides with material falling through the biflow system.
The crushers incorporate the Sandvik Hurricane rotor, which became a major breakthrough in VSI autogenous rotor design due to its reduced vibration levels and improved wear part design. This results in increased crusher bearing life and reduced maintenance.
At Linhay Hill, the CV217 was principally chosen for its ability to crush feed material in order to produce a high-quality sand product of consistent size and at high rates of production. Hence, Glendinning's CV217 is fed with a –40mm limestone to produce a –5mm manufactured sand a rate of  50–60 tonnes/h.
Richard Webb, Glendinning's operations manager for quarrying and concrete products, said: 'Although the VSI is now working to expectations and is ideal for our own requirements, it is not yet producing the gradings that we require if we are to offer the manufactured sand to other cement manufacturers.
'New cyclones from MEP (Mineral Engineering Processes) are due to be installed in the very near future and through their use we hope to produce manufactured sand that is the equal of, if not superior to, naturally occurring sand.'
The modern design and construction of the CV217 delivers additional benefits for Glendinning, as its second-generation rotor and wear parts allows for greater production using less power, for a more efficient and environmentally focused operation.
Moreover, as it utilizes a rock-on-rock action for breakage, the VSI uses fewer parts, meaning a reduction in spare parts replacement during the operational life of the machine, thereby maximizing its return on investment.