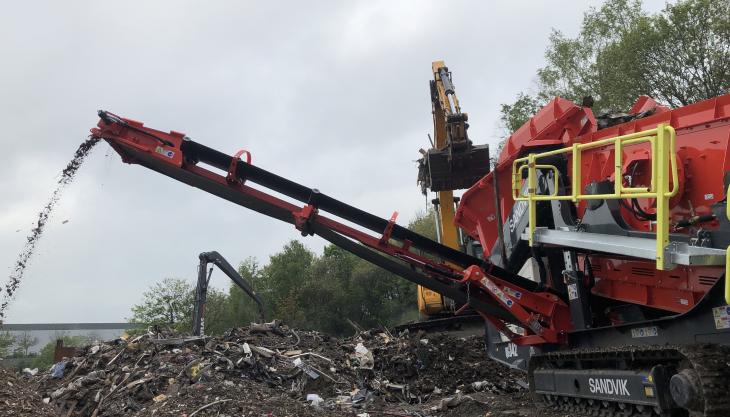 Recycling firm invests in QE342 scalping screen for increased reprocessing of waste materials
SHEFFIELD-based Arthurs Skips have taken delivery of a new Sandvik QE342 mobile scalper screen to help meet the growing demand for recycled aggregates in the regional market.
Established in 1994, Arthurs Skips have expanded into a profitable business and today the company has 70 employees, operates an extensive fleet of equipment, including 70 trucks, and provides a comprehensive range of waste-management and recycling services.
Sustainability has been, and continues to be, an integral part of Arthurs Skips' success. To help maintain the waste-management firm's status as a major aggregate supplier and service provider in South Yorkshire and beyond, the company has once again turned to Sandvik.
Having operated two Sandvik QE341 scalpers for the past five years, Arthurs Skips are not only familiar with the Swedish equipment manufacturer's engineering expertise and product innovation, but also the high-quality aftermarket services and support solutions delivered throughout the lifecycle of the processing plants.
As a result, the recycling firm has continued its association with the Sandvik brand and purchased the new QE342 mobile scalper – the successor to the QE341 model. The QE342 for Arthurs Skips has been upgraded to include a number of additional features for ease of operation, safety and performance.
Purpose-built for demanding, difficult-to-screen applications, the mobile scalper features a wear-resistant steel apron feeder and a wear-resistant rigid hopper that is compatible for two-way or three-way split configurations, as well as having the ability to interchange side conveyors, demonstrating the versatility of the machine.
For servicing, the screenbox jack-up facility allows easy access to the bottom deck for maintenance and screen media changes. The mobile scalping screen also has increased hydraulic fluid change intervals from 2,000h to 4,000h, reducing overall cost of ownership.
In addition, the QE342 has been designed with user friendliness in mind ¬– the new electrical control system incorporates several features to improve both operational effectiveness and safety. 
This simple, easy-to-use system features a key switch, a mode selector (set-up, operation and tracking) and a global plant button that provides sequential automatic start-up and automatic shutdown of the plant. A large visual display is also provided to allow the operator to view engine and plant status.
To meet legislative requirements and help customers achieve their sustainability goals, the QE342 machine has been fitted with the latest generation fuel-efficient engine for maximum performance and cost efficiency.
The heavy-duty mobile scalper is also equipped with Sandvik's My Fleet telematics system, which provides live monitoring of plant performance, hours, location and other operating parameters.