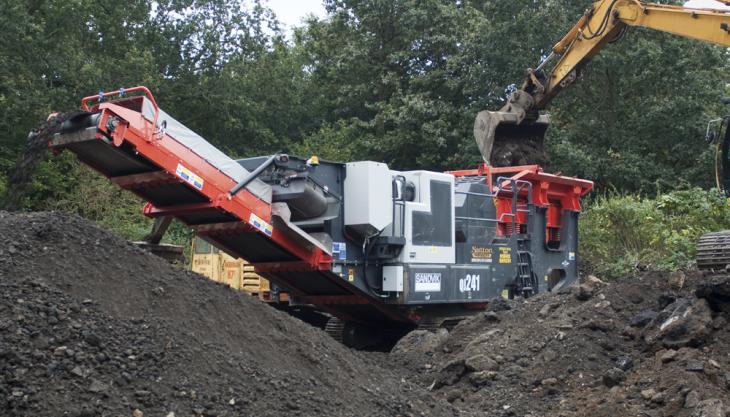 Demolition contractor acquires QJ241 jaw crusher to cope with increasing workload
EAST Anglia-based Sutton Services Ltd have been providing high-quality demolition and dismantling services in the region for the last 20 years. Due to an increasing workload, managing director Glenn Sutton decided it was time for the business to upgrade its crusher.
In order to ensure operational efficiency, minimal environmental impact and compliance with changing regulations, Mr Sutton realized that, in the company's 20th year of trading, a new crushing solution would be needed if it was to maintain a competitive advantage.
'When you are in business you can't sit back and rest on your laurels. Although I've tried to ensure that our equipment is the best out there, it was becoming obvious that we needed a modern and more compact crusher,' he explained.
With the need identified, Mr Sutton looked at various machines from different manufacturers before settling on the new Sandvik QJ421 crusher. The QJ241 is Sandvik Construction's smallest mobile jaw crusher with suitable dimensions for low-loader trailers and, at 34 tonnes in weight, lends itself ideally to varied operations on construction sites.
The single-toggle crusher has a feed opening of 1,000mm x 650mm, accommodating production of up to 225 tonnes/h, depending on the feed material and required final product size. The reversible jaw crusher accepts a maximum feed size of 500mm, while the fitment of a hydraulic wedge adjustment allows a closed-side setting range of 50–150mm.
The QJ421 also includes a hydraulically driven cooling fan featuring auto-reverse, to back-flush dust from the radiator or the central auto-lube on the jaw. A hydraulically driven feeder with grizzly allows automatic control of the feed rate from the large hopper.
A key benefit of the QJ241 crusher has been the minimization of operating costs for Sutton Services. This has been achieved by load-optimized control of the hydraulics and the use of an EU Stage IIIB-compliant Caterpillar C7.1 ACERT engine (168kW).
These developments have led to a significant decrease in fuel consumption even during high-capacity operations, as Mr Sutton commented: 'Compared with the previous crushers that we've used, the QJ241 now achieves, in all applications, 25% more output and consumes 30% less fuel.'