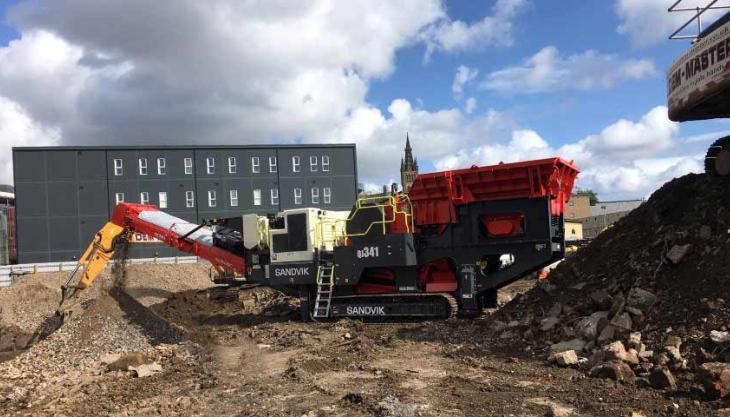 Scottish contractor bolsters recycling equipment fleet with QJ341 tracked jaw crusher
BATHGATE-based Dem-Master Demolition Ltd have taken delivery of a new Sandvik QJ341 mobile jaw crusher. The company, which was recently named in Demolition and Recycling International (d&ri) magazine's Top 100 Demolition Contractors in the World list, is using the crusher, alongside two previously purchased Sandvik QJ341 machines, on a variety of waste-processing and recycling contracts across the UK.
Strong investment in personnel, plant and machinery have all been key factors to the success of Dem-Master, which has propelled the business to the top tier of demolition/recycling operators in the UK.
Highlighting the importance of highly mobile and effective crushing on site, the company has immediately put the new Sandvik QJ341 jaw crusher to work, demolishing the former Glasgow Police headquarters in the city centre.
'We've been buying Extec/Sandvik tracked jaw crushers since the launch of the Megabite around 20 years ago,' said Richard McCulloch, managing director of Dem-Master. 'Sandvik machines are tried and tested, and they are ideal for demolition work. They also have high residual values.'
All three Sandvik QJ341 mobile jaw crushers are proving their worth in recycling and contracting operations while maximizing the value of waste materials. 'We've got all sorts of material coming in and we are producing a 6F2 aggregate for infill and resale,' continued Mr McCulloch.  
'We are hoping at some stage to wash the material and get it secondary crushed through a cone or impactor at our recycling yard. The problem is – if you can call it a problem – is that all our Sandvik crushers are out on site working flat out.'
Designed for a wide range of crushing applications, the QJ341 is the latest in a long line of highly successful tracked jaw crushers from Sandvik Mobile Crushers and Screens. Among the major upgrades to the flagship model is a new Caterpillar engine and Optitooth, a newly designed tooth jaw plate that delivers optimum performance from the crushing chamber.
Sandvik say the focus of the jaw design changes is to provide the customer with higher productivity, reduced running costs and a longer wear life. Optitooth has been engineered to allow for a higher percentage of the jaw to be worn, which results in longer wear life and less manganese waste.
In addition to increased wear performance, other key benefits of the QJ341 include better fuel economy and improved product shape. The QJ341 mobile crusher is also equipped with Sandvik's My Fleet telematics system as standard, which provides live monitoring of plant performance, hours, location etc.