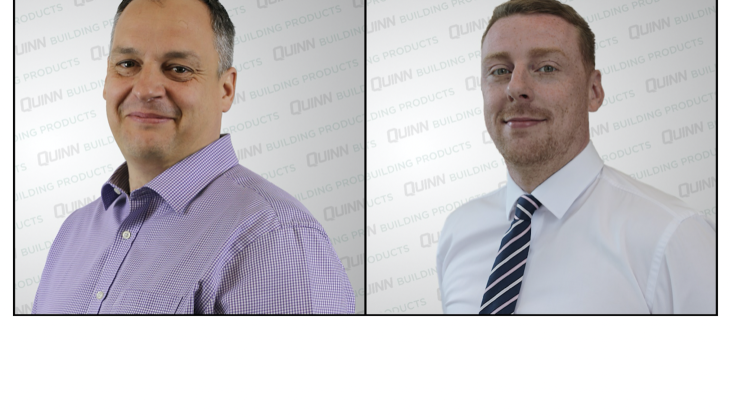 Ian Bagnall appointed as commercial manager; Ryan Tabb takes over as national key account manager
TWO of Quinn's existing Great Britain sales management team have recently been appointed to new roles to further the development of the company's GB business.
Ian Bagnall has been appointed as commercial manager following four years as national key account manager for the GB market.
His new position will involve the management and development of Quinn's GB sales team, focusing on overall business growth and increasing market share through a more strategic account management approach.
The challenges brought about by COVID-19 for the merchant industry mean his initial priority will be the implementation of a new sales management approach to ensure continued commercial success with safety of the team and customers as the number one priority.
Mr Bagnall (left of photo), who has more than 30 years' experience in the construction sales sector, will continue to manage a select number of key accounts which he developed in his previous role.
Ryan Tabb will replace Mr Bagnall as national key account manager for the GB market. This follows a 12-month period as business development manager during which he focused solely on Quinn Rooftiles' growth and development in Great Britain. Prior to that he spent almost five years as area sales manager for the North West region.
Mr Tabb (right of photo), who has worked in the construction sales sector for more than 18 years, will play a key role in ensuring Quinn's commercial success in the GB market, with a focus on growing and developing existing clients and generating new business across the full range of Quinn's product portfolio.
He will continue to manage the business development of Quinn Rooftiles in his new position, ensuring the strong industry relationships he built previously are maintained.
Quinn's GB sales and marketing director, Lee Gillman, said: 'As a company, we have made substantial gains in the GB market in recent years, which is in no small part thanks to the strength of our sales team.
'Both Ian and Ryan have been very much a part of this success and I believe they will both play a significant part in continuing to grow and develop our market presence in the coming years.
'Their recent appointments are reflective of the individual contributions they have made to date and I'd like to congratulate both Ian and Ryan and wish them every success in their new positions.'