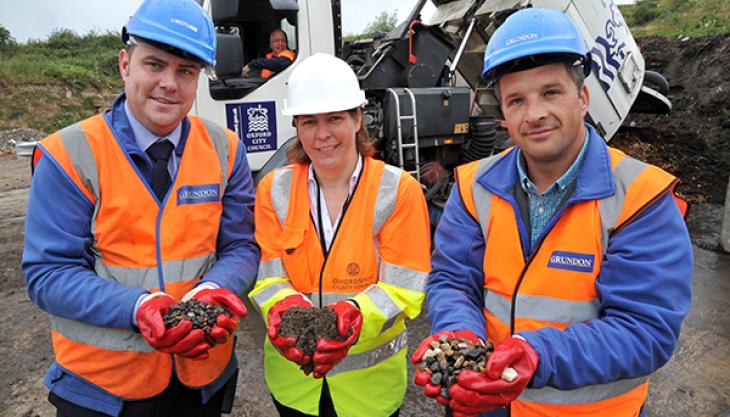 Road sweepings in the county are to be processed at £1.3 million treatment and recovery facility  
A NEW state-of-the-art plant in Ewelme aims to put Oxford County Council (OCC) on the road to boosting recycling rates. The recycling facility, built by Grundon Waste Management at a cost of £1.3 million, is one of the most technically advanced in the UK and helps councils meet their recycling targets through the recovery of all road sweeping waste, including sand and grit.  
Around 5,000 tonnes of sweepings a year are collected from Oxfordshire's roads and will now be processed and recycled at the new plant. Three years ago, the Environment Agency banned the composting of street leaf sweepings because of concerns about the high levels of contaminants such as nickel, copper and zinc. This move left many local authorities worried about the impact on their recycling rates and having to find alternative disposal methods for the waste.   
Keen to maintain its place as one of the top performing county councils in the recycling performance league tables, OCC had to put in place interim measures, while looking for a more sustainable and local alternative.
Rebecca Harwood, service delivery manager for OCC's waste-management group, said: 'After the legislation changed, we had to send some road sweeper waste to landfill, while the remainder went to an alternative facility outside the county.   Obviously, we were very keen to look for alternatives which would be closer to home and more environmentally friendly. Grundon's new facility is not only very impressive, but it offers the capability to handle all of the county's road sweeper waste in one central location.   
'We see it as a win-win situation; using the facility is half the cost of sending waste to landfill and we're also cutting down on transport costs and carbon emissions. Above all though, it's the fact that Grundon are able to recycle and recover all elements of the sweepings that makes the biggest difference. We anticipate this will help us boost our recycling performance rates by nearly 2%, which is a great result.'   
Three new jobs have also been created at the plant, which, once fully operational, will be able to process around 25,000 tonnes of road sweepings a year. On arrival, the road sweeping materials goes into a giant tipping area where excess water is drained and stored for treatment and reused later in the process. A large-size magnet removes any metallic objects, such as nails or bottle tops, before the material is thoroughly scrubbed and washed.   
Screening removes larger aggregate materials (eg –5mm, +40mm etc.) and these are sorted and stored by size, while the remainder goes into a hydrocyclone which is, effectively, a 'giant washing machine' that separates out organic material such as leaves and litter, from sand and grit. 
All the wastewater is treated with a polymer which separates the clean water from the sludge and, after further processing, the sludge forms a 'filter cake' suitable for use in land restoration projects. 
Thanks to the sophisticated recovery process, Grundon say both the sand and the larger size aggregates qualify for 'end of waste' status, allowing them to be sold at a competitive price to the building trade and sand and gravel businesses, where there is a higher demand for recycled products than virgin aggregates.