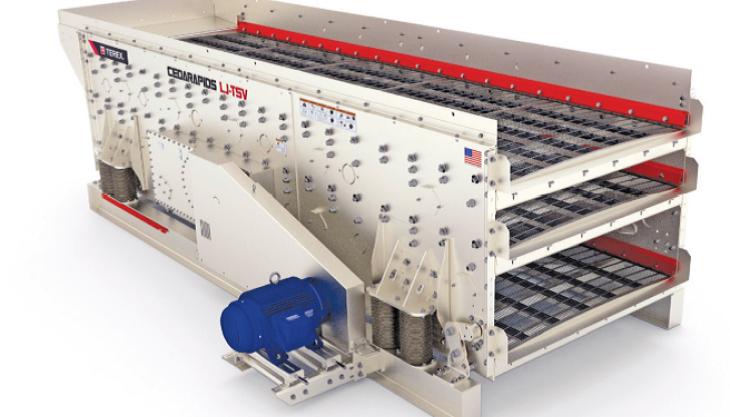 New 5ft and 6ft Terex Cedarapids V-Series horizontal screens designed to deliver unmatched production
TEREX Minerals Processing Systems (MPS) have added 5ft x 16ft and 6ft x16ft two- and three-deck screens to their line of Terex Cedarapids V-Series horizontal screens.
The new screens are said to increase production and handle applications not possible with traditional horizontal screens because they combine the efficient, high g-force El-Jay 3:1 oval-stroke motion (adjusts three ways – speed, stroke angle and stroke magnitude) with variable-slope operation to handle larger deck loads.
The new units also feature more steel in the rock zone with thicker side plates and heavier decks with full-length bracing for greater durability. The 8mm Grade 50 side plates are said to be up to two times stronger than 6mm standard steel.
According to Terex MPS, the new LJ-TSV screens have several new features to boost productivity. For example, the patented low-maintenance vibration-damper system and the patent-pending optional bottom-deck deflector plates boost capacity, while the patent-pending variable slope (up to 10° in 2.5° increments) handles larger deck loads and bigger screen openings to increase production.
The medium scalper option, which includes side liners/extensions, increases feed size from 254mm to 355mm.
New maintenance-friendly features include patented low-maintenance surge damper system; replaceable wire-cloth seal strips for no-weld repairs; bolt-on upper and lower spring guides; tool-less oil-check sight glasses; a bottom-deck feed curtain; and optional magnetic deck wear liners. In addition, a patented 'flow-through' lubrication system and sealed-for-life double O-ring assembly extend equipment life.
Ed Sauser, product manager at Terex MPS, said: 'We are excited to add more new models to the our V-Series screen line. Variable slope operation gives customers a product that handles more applications than other screens on the market. The increased capabilities, higher production, enhanced durability and ease of maintenance of the LJ-TSV screen make it an industry leader.'