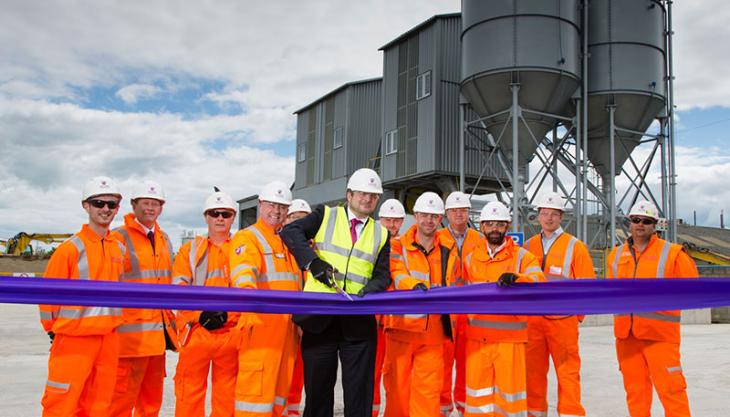 Hope Construction Materials open £0.5 million concrete plant to serve construction boom in North West
HOPE Construction Materials are gearing up to serve the much-anticipated construction boom in the North West with a major investment in their first new concrete batching plant at Thornton, near Blackpool.
Norman Tenray, president of the North & Western Lancashire Chamber of Commerce, joined Hope Construction Materials' chairman, Amit Bhatia, and other company representatives to formally open the Thornton plant, the first new concrete production facility to be built by the company since its formation at the beginning of 2013.
The latest technology has been used in the new plant, to ensure efficient management of delivery vehicles, excellent environmental performance and ample production capacity. The £0.5 million plant, which is capable of producing up to 55 cubic metres of concrete an hour, will supply large-volume construction projects in the area, as well as smaller building and DIY projects.
The Thornton plant is already successfully supplying a number of new-build housing sites and a large utilities contract in Blackpool, and the team is also targeting large coastal and utility contracts within the local area.
The new plant also means North West builders will be able to take advantage of Hope's range of performance products, including the HOPEFlow range of free-flowing self-compacting concretes for foundations, floors and walls.
Hope regional director Robert Hamilton said: 'This operation, combined with our distribution and sales office at Garstang, is enhancing Hope Construction Materials' ability to offer a local, expert service for construction contracts of all sizes in Lancashire and the North West.
'Our investment in this plant reinforces Hope's confidence in the economy of this region. We expect that this operation is the first of many in the region and nationally.'