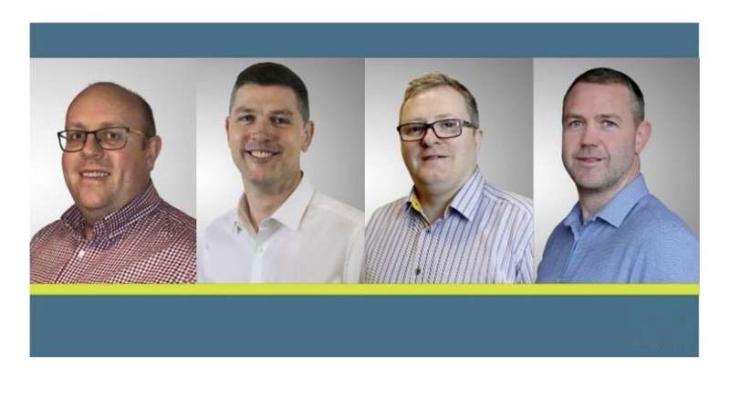 Company continues to invest throughout Ireland with appointment of four new area sales managers
MANNOK have announced the appointment of four new area sales managers (ASMs) in Ireland, ensuring dedicated management resources to every area of the country and a focus on core market segments.
The changes are part of a wider restructure of the Irish sales team, which saw Paul Dunne and Martin McGrath appointed as sales and marketing managers for the Republic of Ireland and Northern Ireland respectively, and Bryan Hanrahan appointed as construction commercial manager in late 2020.
In the latest phase of the restructure, Ger Ronan has joined the company as ASM for the South Dublin, Kildare, Wicklow, Carlow and Wexford region, and Joe Sweeney has been appointed as ASM for North Dublin, Louth, Meath and Westmeath. In Northern Ireland, Declan Loane will assume the ASM role for the county of Derry, and Mark Lunney for Co. Fermanagh.
Ger Ronan comes into the role of ASM with 18 years' experience in the building industry. Over that time, he has built a vast personal network of contacts within the area and his familiarity with many of the regional key players in the industry, combined with a strong knowledge of Mannok products, will help maximize sales and growth opportunities.
Joe Sweeney has enjoyed a career spanning over 20 years in the construction industry, with 10 years spent in technical sales. His wealth of experience and deep knowledge of Mannok products and the customer base will see him focus initially on relationships with existing clients, whilst identifying new growth opportunities in the region.
Declan Loane is a seasoned professional with almost 20 years' experience in the construction industry. His most recent experience working with the Mannok's technical has seen him develop CPD programmes for the Irish market and work with industry stakeholders to promote better building standards.
Mark Lunney, who has worked in the business for more than 15 years, has a wealth of product knowledge and sales experience. His most recent role has been as ASM for Mannok's bulk cement product covering the Ulster area, and he will continue with this responsibility, combining it with his new ASM role for all products in the Fermanagh region.
Mannok say these appointments represent the company's continued investment throughout Ireland and commitment to meeting the needs of a changing industry to ensure that each key market segment has the required allocation of management resourcing.