New Hitachi machine helps drive productivity at Swiss recycling plant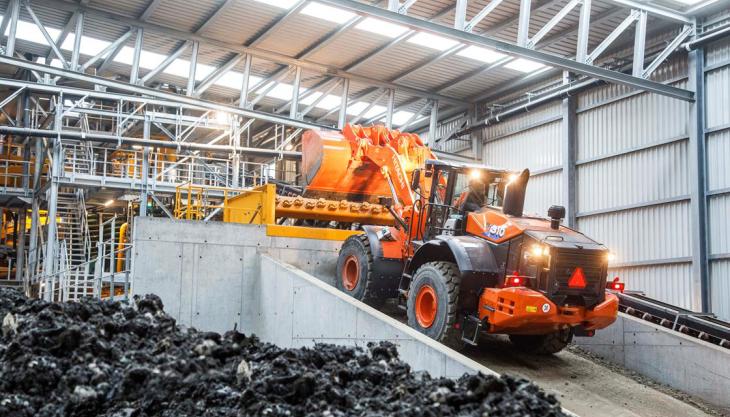 TIB Recycla SA purchase ZW310-6 wheel loader for demanding waste-management operations 
SWITZERLAND-based TIB Recycla SA (TIB) have taken delivery of a new Hitachi ZW310-6 wheel loader for use at the company's recently opened recycling centre in the district of Lugano. The machine – which comes with five year/6,000h extended warranty – was supplied by authorized Hitachi dealers Probst Maveg. 
The ZW310-6 wheel loader is being utilized on site to feed TIB's processing plant with recyclable materials. It is also tasked with loading delivery trucks with recycled aggregates for onward transportation by road or rail.
The latest machine purchase joins an existing fleet of three Hitachi medium excavators – a ZX250-5, ZX135US-6 and ZX300-6. According to Roberto Bizzozero, director of TIB, the recycling firm has no hesitation in investing in new Hitachi machinery, thanks to the reliability of the products and the business relationship it has with Probst Maveg.  
'Hitachi is a strong brand in the region and the most important element for us is the exemplary service,' he commented. 'We benefit directly from our dealer's top quality approach and enjoy a friendly business relationship and high levels of professionalism with our main point of contact.'
The purpose of TIB's new facilities is to provide the construction industry with the opportunity to dispose of excavated and demolished materials, and supply recycled aggregates to building projects across Switzerland.
Despite working with another manufacturer in the past 30 years, Mr Bizzozero said he has enjoyed 15 years of Hitachi ownership even more. 'We opted for the ZW wheel loader due to the total cost of ownership, driven by its low fuel consumption and high price/quality ratio,' he commented. 
TIB operator Damiano Alberton has also been impressed with TIB's machine acquisition. 'The driving position in the ZW310-6 is the best I've experienced and the noise levels in the cab are low,' said Mr Alberton. 'In addition, the visibility is suitable for both feeding the recycling installation and loading trucks with finished materials. The power and torque of the engine are also excellent for travelling up the steep ramp.'