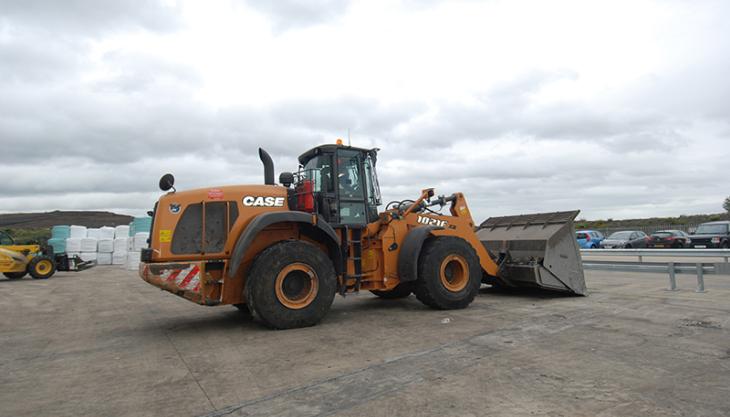 F-Series wheel loaders and a CX210B materials handler help keep costs down and productivity up for operator 
A RANGE of Case F-Series wheel loaders, a CX210B materials handler and a bespoke service agreement designed to meet the client's exact requirements are helping to reduce costs and improve productivity for Impetus Waste Management.
The company processes more than 900,000 tonnes of materials a year and employs 240 full-time staff across its sites, including four waste transfer stations, two landfill sites and a composting facility. 
When a decision was made to acquire new equipment, Impetus wanted machines that offered superior performance, reliability and fuel efficiency, together with reduced operating, servicing and repair costs. Good after-sales service and technical support were also vital as the new machines are required to work extremely long hours in very challenging environments. 
After careful examination and testing of several different branded machines, the waste operator decided to optimize its fleet with a number of Case products, including five new F-Series wheel loaders and the CX210B MH unit, all supplied by Warwick Ward. Each machine is operating a minimum 22h at Impetus' North Tees waste-to-fuel plant, with only 2h of downtime to allow it to be fully cleaned for the next work shift.  
'The machines are very efficient,' said site manager Craig Jones. 'When it comes to reliability they are excellent. Considering how long we run the machines for we have very few problems, which is fantastic considering the amount of material we are moving per day.'
The two 721F XR (195hp) wheel loaders, 821F XR unit (230hp) and 921F (255hp) machine are fitted with 6.7-litre diesel engines. The larger Case 1021F XR wheel loader model has been specifically designed for waste recycling and is powered by an 8.7-litre Tier IV Interim-compliant diesel engine. Four of the F-Series wheel loader models feature Case's five-speed Proshift transmission and heavy-duty cooling cube. 
Deployed for pre-sorting waste and then feeding it to a Metso shredder at the North Tees site, the CX210B MH unit has a dedicated matching of slew speed and boom raise functions that increases productivity, while providing easier dump functions via its high lift arms. 
Offering excellent visibility, the large cab in the materials handler is mounted on a rigid parallel lift that rises up to 5.06m, making it suitable for viewing bucket attachments during unloading/loading of high-sided trucks. The cab descent switch can be activated from inside and outside the cab, improving operator safety.  
Phil Lord, operations director for Impetus Waste Management, said: 'As we operate all-year round, we cannot afford to have machines out of action. We need machines that are solid, durable and very reliable. Just as importantly as having the right machines was knowing that both Case and their dealers could provide excellent after-sales service.'