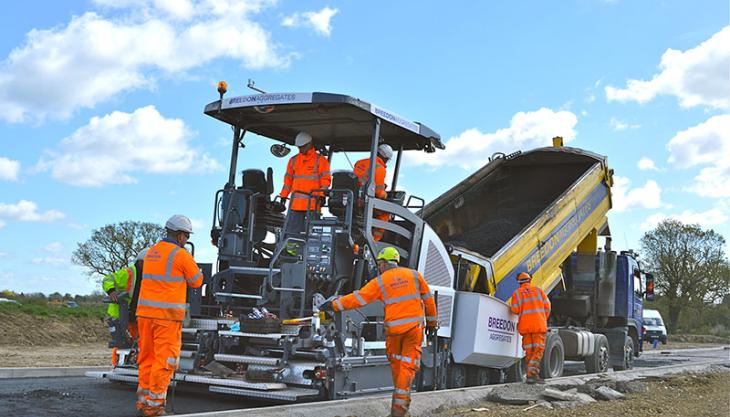 Breedon Aggregates Contracting England think about standardizing paver fleet with Dynapac machines
HAVING used Dynapac pavers in the past, Breedon Aggregates Contracting England Ltd have recently taken delivery of a new SD2500WS wheeled paver, which forms part of the renewed road construction range from Atlas Copco Dynapac, which offers more ergonomic, economical, innovative and robust machines.
Key features of the SD2500WS paver include: integrated levelling functions, a stronger auger system and a sliding cabin deck, to improve productivity for the user.
With the new machine currently working on a project in Milton Keynes, Breedon Aggregates Contracting England, part of the Breedon Group, say they may consider standardizing their fleet to Dynapac pavers over a period of time.
Matt Pursglove, central operations manager, and Dave Lewis, contracting director for Breedon Aggregates Contracting England, commented: 'The paver is performing very well and the operatives on site are pleased with its performance.
'From past experience, we've recognized that Dynapac pavers are built to last, performing extremely well under the most difficult conditions that we face on site and this is why we may consider standardizing our fleet to Dynapac over time.'
Mr Pursglove added: 'I have always been a big fan of Dynapac, and with this purchase our relationship continues to build.'
Dynapac sales manager Donato Campanaro said: 'We're thrilled to work with one of the UK's most well-known and respected surfacing companies. As Breedon carry out a lot of surfacing work in partnership with specifiers, councils, public bodies and local authorities, it's important they use high-quality pavers with dedicated backup.'
Atlas Copco Dynapac say the SD2500 machines combine high levels of paving performance with operator comfort and fuel efficiency. The latest generation of pavers feature [email protected] – Dynapac's new monitoring software which allows owners to track, view hours, service pop-ups and increase security for their machines.