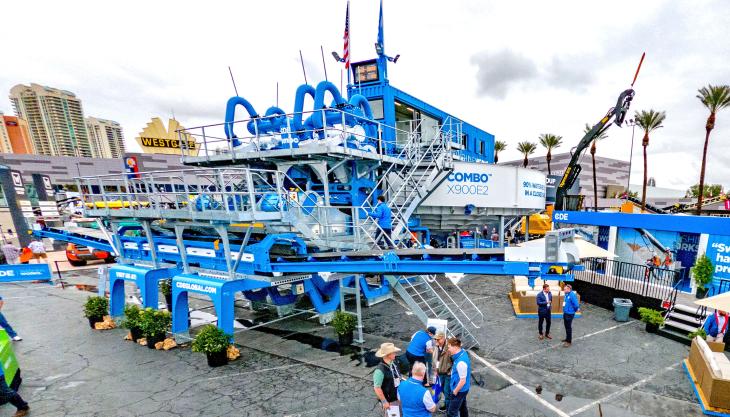 CDE unveil their largest all-in-one wet processing and water-management solution in Las Vegas

CDE have unveiled their new 500 tonnes/h Combo X900 at Conexpo-Con/Agg in Las Vegas this week. The X900 is the latest in CDE's range of Combo all-in-one wet processing and water-management solutions, which were first launched in Europe at bauma in April 2019.

With an increased capacity of 500 tonnes/h, the new Combo X900 is the largest in the series to date, as Kevin Vallelly, director of engineering at CDE, explained: 'With our new Combo X900, we've doubled its capacity and created a next-generation solution for materials processors.

'The Combo X900 can process 500 tonnes/h of feed material, including natural sand and crushed rock, containing unwanted clay, silt and other organic contaminants to extract quality, in-spec washed and graded sand products that are market-ready straight from the belts.'

As well as its increased capacity, the control cabin of the new Combo X900 has been repositioned to sit on top of the water tank. 'Plant and machinery are subject to major temperature extremes and fluctuations across different regions,' said Mr Vallelly.
'By positioning the control cabin on top of the water tank, we're able to better protect the operational heart of the plant and offer a solution that can be adopted across all of the markets we operate in and where high and low temperature extremes are recorded.'

Furthermore, where traditional washing systems typically have a separate standalone water tank, the new Combo X900 has integrated this into the design of the AquaCycle thickener tank, resulting in a peripheral wall for water storage, which has significantly reduced the overall footprint.

It provides customers with almost total independence of water supply and minimizes the requirements for costly site engineering due to its significantly reduced footprint, which is, on average, 30% smaller than other traditional wash plant setups.

Mr Vallelly said: 'Traditional washing systems would typically consume up to 15 times more water than that required for the Combo X900.

'Our best-in-class water management and on-board water recycling minimizes costly water consumption and ensures up to 90% of process water is recycled for immediate recirculation through the closed-circuit system.'

He added: 'The Combo X900 enables materials processors to wash more than 500 tonnes/h with only 180 cubic metres per hour, about the same amount of water that would be required to wash a truck.'

With its single chassis design, the Combo X900 incorporates all essential processes – washing, dewatering, water recycling, and stockpiling – on to one single, interconnected and pre-assembled unit.

A plug-and-play system, it arrives on site pre-wired and pre-tested, ready to process material within just five days as a standalone plant or as part of a larger turnkey solution.

Its single-chassis design means the Combo X900 is portable and can be rapidly deployed or relocated to remote locations with minimal foundations and pipework. Coupled with its significantly reduced footprint, the system is also well suited to compact quarries in urban settings.
By 2050, it is anticipated that nearly two-thirds of the world's population will live in urban areas. With this comes increasing demand on sand – which accounts for around 35% of  concrete mixes – to support construction and infrastructure.

'The urbanization challenge requires a technological and sustainable solution,' said Mr Vallelly. 'The Combo X900 maximizes resource yield from natural sand and crushed rock feed, adding huge commercial value and minimizing waste, and ensuring not one grain of value is lost to settling ponds.

'By ensuring maximum product yield from resources, and by boosting profitability through highly efficient processes, we're supporting our customers in extending the life of their quarries through more efficient and sustainable technologies, by extracting value in the form of manufactured sand from what was previously categorized as a 'waste' by-product.