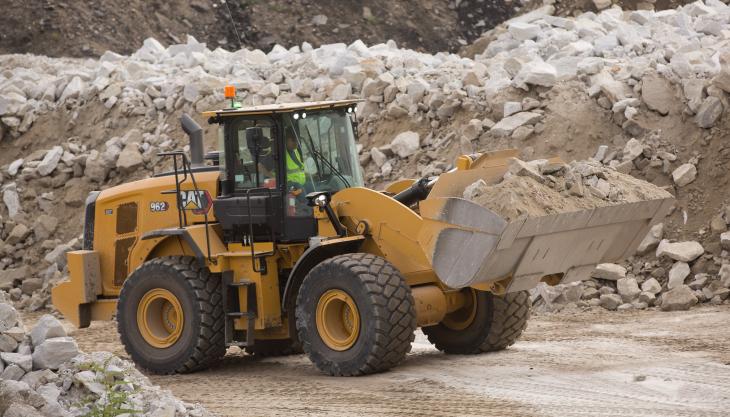 Premium performance and simple-to-use technologies advance operating efficiency and productivity

DELIVERING premium performance, the new Cat 950 and 962 next-generation wheel loaders feature standard simple-to-use technologies that boost operator efficiencies, provide consistent bucket fill factors and increase productivity by up to 10% over the previous models. The flexible loaders offer application-specific designs that are said to excel in the toughest applications, whilst service intervals have been extended to reduce maintenance costs by up to 30%.
The loaders' field-proven and reliable Cat C7.1 engine offers high power density with a combination of proven electronics, fuel and air systems. Equipped with the automatic Cat regeneration system, the engine meets US EPA Tier 4 Final, EU Stage V, Korea Tier 5 and Japan 2014 emission standards without interrupting operation. Moreover, Cat say the electric fuel priming pump, fuel-water separator and secondary fuel filter combine with component design and machine validation to offer superior reliability and uptime.
A range of standard technologies on the 950 and 962 wheel loaders efficiently monitor, manage and enhance jobsite operations. Providing accurate weighing of material, Cat Payload with Assist displays data in real time to improve productivity and loading efficiency. The operator can now fully automate bucket loading using new Autodig to improve fill factors and loading times. Working in combination with Autodig, new Auto Set Tyres promotes proper loading technique to significantly reduce tyre slip and wear.
New application profiles give operators the ability to set customized profiles for customer-specific applications at the touch of a button to optimize loader settings for the job. Facilitating loader operation, selectable job aids allow operators of all experience levels to be more productive. Wirelessly connecting the machine to the office, Product Link gives access to production and essential machine health information for fact-based decision making.
Loader and operation productivity are further enhanced with optional Cat technologies. Available Cat Advanced Payload with Assist includes Tip Off Assist to automate load adjustment of the final bucket to match target. Plus, its enhanced lists management, site integration and extended scale features help manage and improve productivity. Also helping to improve profitability of operations, the optional Cat Productivity subscription provides detailed and comprehensive actionable information.
The consistently high bucket fill factors provided by new Autodig with Auto Set Tyres delivers up to 10% more productivity for the 950 and 962, compared with the previous models, whilst single clutch and lock-to-lock shifting of the five-speed transmission offers faster acceleration and speed on grades. The new loaders also offer improved traction with standard front manual differential locks, with optional automatic front and rear differential locks available, to increase productivity, reduce tyre scuffing and lower operating costs.
Depending on region, the 950 and 962 are equipped with either conventional or optimized Z-bar linkage. The conventional Z-bar design delivers high breakout force at ground level, whilst optimized Z-bar linkage offers parallel lift capability for precise work tool control as well as providing high breakout force at ground level.
Cat Performance Series buckets balance bucket shape against the loader's linkage, resulting in higher fill factors and better material retention. The Cat Fusion quick-coupler offers easy tool changes without the operator leaving the cab, allowing the machine to move quickly from task to task.
Sound suppression, seals and viscous cab mounting decrease noise levels and vibration feedback to the operator for a quieter and more comfortable work environment. Providing excellent comfort and accuracy, the standard HMU steering wheel offers precise machine control. A seat-mounted electrohydraulic joystick steering option replaces the HMU steering wheel to deliver low-arm-fatigue operation, whilst a new in-cab dashboard and high-resolution touch displays afford intuitive, user-friendly operation.
The new 950 and 962 come standard with a rear-vision camera to enhance visibility behind the loader. Industry-leading all-around visibility is achieved through the cab's floor-to-ceiling windshield, large mirrors with integrated spot mirrors and rear-vision camera. An optional multi-view (360-degree) vision system, Cat Detect radar technology, and access light and an under-hood service lighting system are available to further enhance safe operation and maintenance.
Ongoing filter and fluid costs are up to 30% lower on the new models thanks to new change intervals. Connecting the machine to a Cat dealer's service department, Remote Troubleshoot helps to efficiently diagnose problems, so the loader can get back to work quickly. Ensuring the new loaders operate with the most up to date software, Remote Flash pushes software updates to the machine in the background and installation can be initiated by the customer in a safe manner, reducing impact on production schedules. The Cat App helps to manage fleet location, hours, and maintenance schedules and provides alerts for required maintenance.
The new 950 and 962 can be ordered direct from the Caterpillar factory with application-specific configurations to optimize performance and machine durability in the toughest applications. Subject to regional availability, industrial and waste models feature additional guarding and reinforcement.