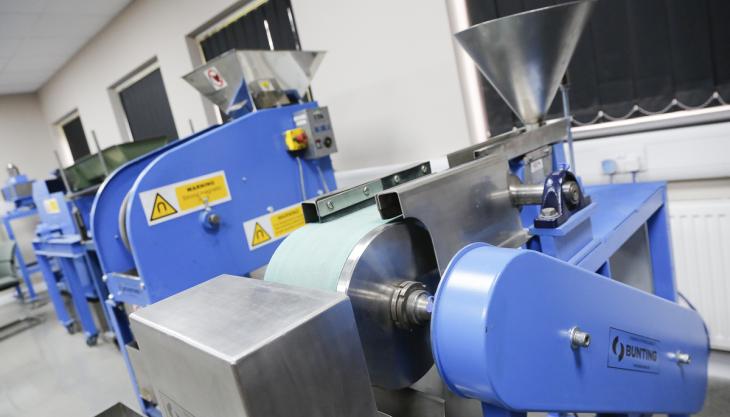 Investment in world-leading testing centre and laboratory facility helps generate new orders 
BUNTING's newly extended manufacturing facility in Redditch houses a world-leading testing and laboratory facility. The new Customer Experience Centre focuses on material separation with a wide range of laboratory-scale and product-sized test equipment, including high-intensity magnetic separators, eddy current separators and a revolutionary electrostatic separator.
During the recent expansion of the Redditch manufacturing plant, the testing facility was given high priority and modernized to provide an ideal location for controlled and extensive material testing. The new laboratory also provides the perfect platform for visits from company representatives to test samples and assess separation capabilities.
Qualified mineral processing engineers, including Professor Neil Rowson, Bunting's laboratory manager, undertake test work for mineral processing companies evaluating reserves across the world. The magnetic separators allow testing in both a dry and wet state on equipment including rare earth roll separators, electromagnetic filters, and magnetic disc separators.
The separately located recycling test area houses laboratory-scale eddy current separators, stainless steel separators (HISC and SSSC), and standard magnetic separators such as drum magnets. The latest equipment addition is the electrostatic separator, which expands the scope of material separation in the mineral processing and recycling sectors. With technology to separate, detect, and recover a wide range and size of ferrous, non-ferrous, stainless steel and other materials, Bunting say they can provide a total material separation solution.
'Having the ability to test and prove the separation capabilities of a specific machine is priceless,' explained Adrian Coleman, general manager of Bunting-Redditch. 'There is a constant flow of materials arriving to be tested and being returned. We are fortunate enough to have unique laboratory-scale technology that enables separations that are simply not possible in other test houses. Investing in our new Customer Experience Centre has already generated orders that previously we would not have secured.'