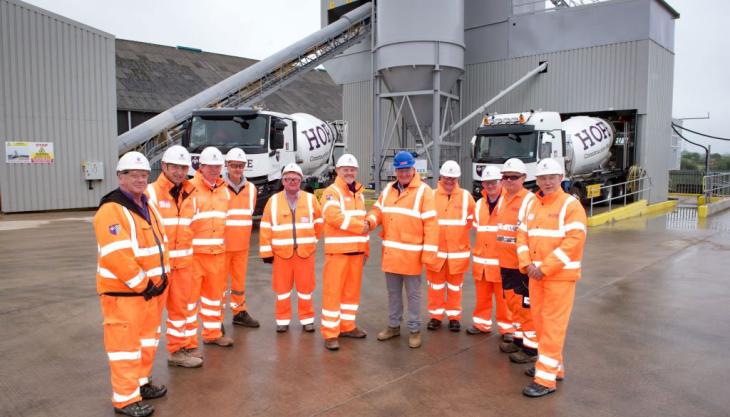 Hope Construction Materials welcome major customer to launch new Woodham concrete plant 
HOPE Construction Materials have stepped up their ability to supply Home Counties building projects with the official opening of a new £1 million concrete production site in Buckinghamshire.
The new plant at Woodham, between Aylesbury and Bicester, is already busy supplying a range of high-performance concrete products to local housing developments.
Andy Morris, operations director at major regional building firm Carmac (Building & Civil Engineering) Ltd, joined representatives from Hope to mark the new plant's official opening.
He said: 'It's great to see investment in supporting the booming construction industry in this area. Hope's Woodham plant will help meet the increasing need for concrete in the Bicester/Aylesbury area.
'Having already worked with Hope through other production sites in the region, we are delighted to have them here – it's great to have a reputable local concrete supplier, known for top-quality products and service, in this area.'
Hope Construction Materials' chief operating officer, Mike Cowell, said: 'We are delighted that one of our key customers in this region was able join us to officially mark the opening of an important addition to our plant network.
'As a business, we are keen to expand our network and increase the part we can play in UK construction – Woodham Plant enables us to supply builders with Hope's concretes across Oxfordshire and Buckinghamshire.'