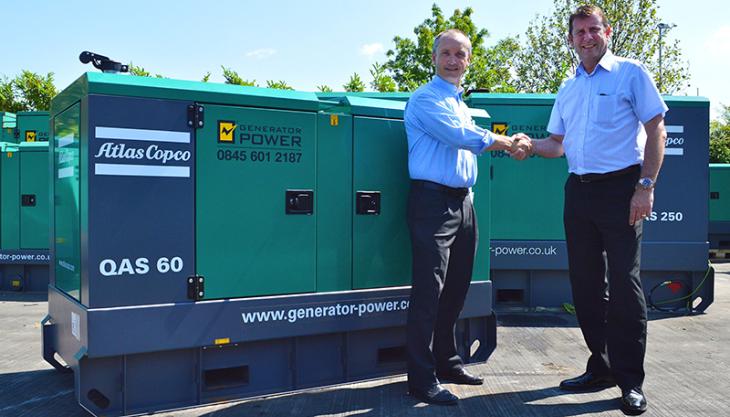 Rental firm first to take delivery of new generator as part of £3.5 million order for 170 machines
AS part of a £3.5 million order comprising 170 generators of various sizes, Generator Power have purchased 60 of the brand new, compact and efficient Atlas Copco QAS 60 generators. The hire company is the first customer to receive the new QAS 60 and is taking delivery of the units throughout August.
Generator Power's fleet of more than 1,200 machines is exclusively Atlas Copco, the firm having expanded from an initial order for 47 units in 1997 to a point where it now employs 125 staff and has an annual turnover in excess of £20 million.
Atlas Copco were able to match Generator Power's growth and expansion with their offering of machines from 10kVA to 1,250kVA. The hire company, headquartered in Normanton, Yorkshire, has seen demand increase across all sectors and says 2014 is set to be its best year yet.
The new QAS 60 is a smaller unit than its predecessor, which means reduced transport costs, increased efficiency and a compact footprint on small job sites. The unit also features a new digital controller and updated Leroy Somer alternator. The QAS 60 still has its robust canopy, heavy-duty skid base and reliable Perkins engine.
Mark Biddell (right of picture), product specialist for generators at Atlas Copco, commented: 'The new QAS 60 is a robust and reliable machine and we're thrilled that Generator Power have placed the first order for 60 of them. The new machines are part of a considerable order for this year, and we hope to maintain our close working relationship with Generator Power as they expand well into the future.'
Steve Cardwell (left of picture), managing director of Generator Power, added: 'The QAS 60 is a great addition to the range. I like the unit because its compact yet has a very low noise level. We have a long-established and successful relationship with Atlas Copco, they are a world-class manufacturer and we only buy their units. Uptime, ease of service and reliability are extremely important for us, and having one supplier means we know the machines well, can carry stock and react quickly.'