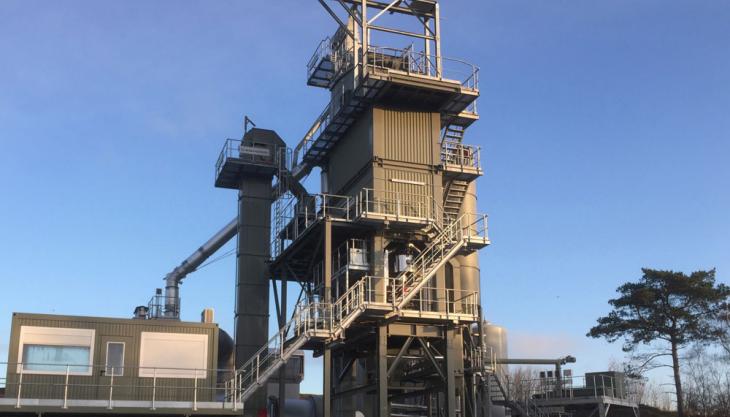 Jobling Purser open brand new Benninghoven TBA 3000 plant close to M6 motorway at Hespin Wood
JOBLING Purser, a family-owned and operated business specializing in bitumen emulsification and other highway maintenance products, have opened a new coated-stone facility at Hespin Wood, near Carlisle.
The company's brand new Benninghoven asphalt plant is strategically located just off the M6 motorway and well situated to supply customers in Cumbria, Northumberland and the south of Scotland.
Jobling Purser, who already run a successful asphalt production facility at their Newcastle upon Tyne base, say they have added this new operation to more efficiently serve their northern customer base with high-quality surfacing materials.
The new, state-of-the-art Benninghoven TBA 3000 plant, which is equipped with a 3-tonne mixer, allows the production of up to 240 tonnes of mixed product every hour, but also offers Jobling Purser increased flexibility in meeting customers' demands, as it can mix batches of just 1 or 2 tonnes if necessary.
The plant is capable of producing a wide range of coated materials, including macadam's, hot-rolled asphalts, stone-mastic asphalts, PMB thin surfacings, and other specialized mixes.
At the core of this new technology is the plant's ability to utilize up to 30% cold RAP materials, thereby reducing the amount of waste going to landfill and reducing the impact on virgin aggregate supplies.
Cold asphalt mixes, suitable for coating tar-bound RAP to produce a 100% cold-laid roadbase material – Armabase, will also be available from the new facility.
The plant will also produce Jobling Purser's innovative Armaphalt material for use in asphalt recycling machines, allowing small hot mixes to be produced on site.
The plant is operated using the latest control system from Benninghoven, which ensures a consistent high-quality product. The system also continually monitors and records all aspects of production, allowing for regular data analysis in order to guarantee continuous high performance.
Commenting on the new asphalt facility, operations director Evan Jobling-Purser said: 'Jobling Purser are very proud of their extensive history in the highways industry and what they have achieved in the asphalt supply market in the North East.
'This significant investment in Carlisle brings jobs and other economic benefits, and will be welcomed by surfacing contractors working in the area. This is a very exciting time for Jobling Purser.'
Steve Larkin, manager of the new Carlisle asphalt plant, added: 'Operationally, this plant is of the highest quality in both design and build, and with its high capacity and flexibility I'm confident that we can deliver an excellent product and exceptional service to all of our customers.'