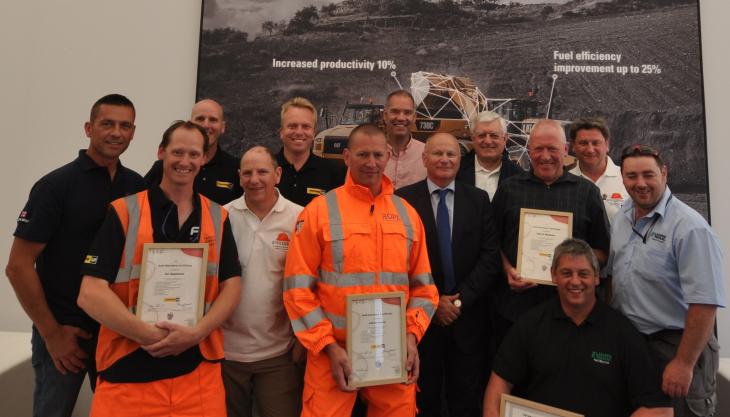 Wednesday 25 June 2014, saw the launch of the first ever industry-wide gold standard accreditation for highly efficient quarry and mining equipment operators. The new scheme is being launched through a joint partnership between MPQC's Awarding Body, MP Awards and UK and Ireland Caterpillar dealer, Finning. 
The scheme aims to professionalize the industry, recognizing the best operators in the country and encouraging businesses to invest in the training and support of a key part of the industry's workforce. To achieve the gold standard, operators will have to take part in additional training and ongoing coaching through an intensive onsite course, run by Caterpillar accredited Finning operator trainers.
To celebrate its launch at Hillhead 2014, MP Awards and Finning have presented the first four gold cards to operators from four different industry players at Hillhead 2014:
Adrian Morris - Hope Construction Materials (Dowlow Works)
Ian Bagshawe – CEMEX (Doveholes Quarry)
Neil Mycock - Lafarge Tarmac (Tunstead Quarry)
John R Middleton - Breedon Aggregates (Cloud Hill Quarry)
The practical course, run with operators on their own sites with the machines they operate, covers a full range of different manufacturers' models and focuses on both fuel and production efficiency. Open to current MP Awards, MPQC Blue Card holders, once each operator has undergone the Finning Eco-Drive  training and additional coaching, two independent on-site assessments are completed to ensure consistent performance.
Each assessment is carried out against strict criteria, developed by Finning from global Caterpillar operator standards, ensuring a gold cardholder is capable of adding real value to the bottom line of any business they work for.
Eighteen months in the planning, the new gold card standard can now be used to identify and recognize advanced operators capable of operating to consistently high standards of efficiency.
Commenting on the new gold standard, MP Awards qualification development manager, John Bussey said: "The development of this new accreditation standard, hand in hand with Finning represents a key milestone in the delivery of the new PRIME campaign. It helps to recognize and professionalize a key part of the workforce, focusing on the individuals who can have a major impact on reducing the cost of quarrying materials.
"By delivering the scheme in partnership with Finning, who have been operating their Institute of Quarrying CPD accredited Eco-Drive training programme for a number of years, we will be able to deliver a much higher level of practical training and advice to operators. Each individual will be trained and assessed on the machines they operate, within their specific working environments, so mentoring and advice will be tailored to their needs, no matter what product they use. 
"We know this will make a huge difference to all involved and see it as a first step to moving away from simply training individuals to be safe and competent to perform key tasks. This is about developing excellence, delivering efficiency and upping productivity to get more from the equipment and the quarry/mine itself."
Having first approached MP Awards to see if its Eco-Drive training programme could form part of MP Awards accredited provision, Finning applications manager, Phil Lewis was met with real enthusiasm from the MP Awards team, he added: "We knew from the results achieved by the nearly 3,000 operators put through Eco-Drive that practical training can have a major impact on fuel optimisation, productivity, safety and job satisfaction. So we wanted to see how operators attending the course followed up with on-site practical assessments could be recognized."