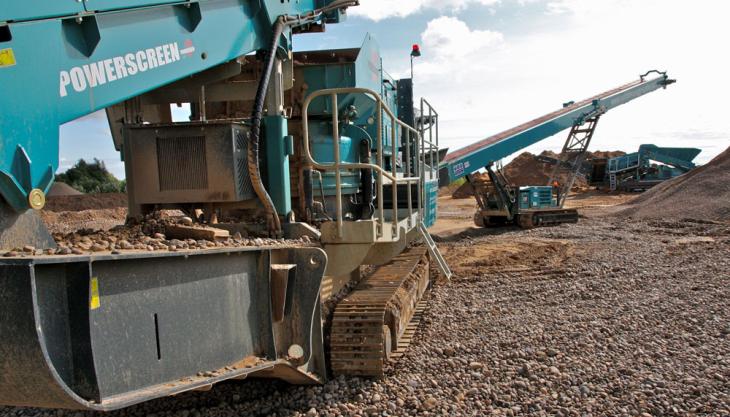 North Lincs Aggregates Ltd invest in new Powerscreen equipment supplied by DUO
LOCATED at Sandtoft, near Doncaster, North Lincs Aggregates Ltd are an independent family-run business who own and operate three quarries in the area. The company's Finningley operation has been established for around 12 months and runs a Terex Washing Systems' M1700 wash plant.
Operating independently at 160 tonnes/h, this mid-size mobile plant complete with on board hydraulically folding side conveyors for up to five-way splitting of material, produces a 0–4mm grit sand, 20mm and 10mm aggregates, and oversize, which are sold to local concrete plants.
Originally supplied by DUO (Europe) plc for use at North Lincs Aggregates' quarry at Cove, the plant was subsequently moved to Finningley, where it has had to cope with an increasing amount of oversize.
As a result, a decision was made to invest in a Powerscreen 1000 Maxtrak cone crusher, a Powerscreen Warrior 1400 and a tracked DUO conveyor, which were also supplied by DUO.
Richard Mills, managing director of North Lincs Aggregates, explained: 'We have a long-standing relationship with DUO, who supplied the M1700 and other equipment for our various operations, so it made sense to buy a 1000 Maxtrak cone to crush the oversize and a Warrior to dry screen the sand.'
The quarry at Finningley, which has reserves of approximately 3.5–4 million tonnes of quartz gravel and sand, had lain dormant until purchased by North Lincs Aggregates same 12 months ago.
Mr Mills commented: 'We are a self-funding company so purchasing Powerscreen equipment from a trusted supplier like DUO makes sense. We purchased the equipment outright as the brand retains a good residual value, ideal for when we need to upgrade again.'
The processing operation at Finningley is relatively simple. Sand and gravel dug from the quarry is sent to the M1700 wash plant while the oversize is stockpiled for delivery, by wheel loader, to the Maxtrak 1000 cone crusher, which operates at 100 tonnes/h.
The oversize material is reduced down to 20mm plus an associated dust, which is subsequently re-fed through the wash plant along with the raw feed material.
The duty of the Warrior 1400 is to dry screen sand and gravel using a 4mm piano wire mesh to provide a dry building sand.
'Both machines have been delivered within the last three months, along with the tracked conveyor,' said Mr Mills. 'Overall we are very happy with the machines supplied by DUO and have every confidence in the reliability of the equipment, and the service back-up.'
Nico Stroh, development manager at DUO, commented: 'The machines supplied to North Lincs Aggregates are perfect for their operation and offer reliability and efficient processing. We are very confident in our supply of the full range of Powerscreen equipment, which blends perfectly with the TWS range of washing equipment.'