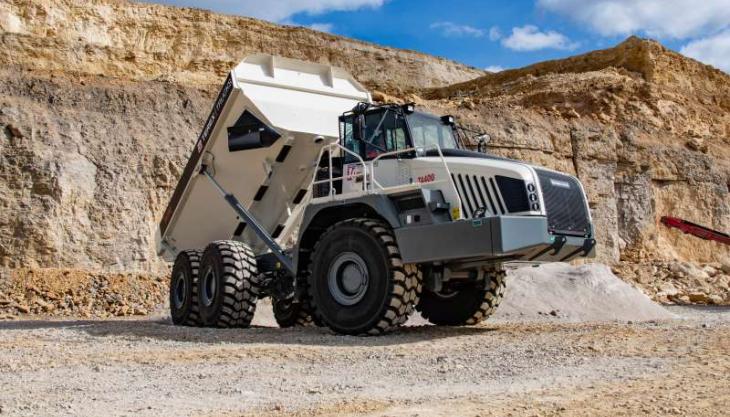 TA300 and TA400 become latest additions to 360-degree product range available through Molson Group
MOLSON Group have further cemented their position as a single-source supplier to the UK construction, recycling and aggregate industries, having been appointed as a nationwide dealer for Terex Trucks.
In a move that expands the Group's product range to include large articulated dumptrucks (ADTs) for the first time, the full range of Terex Trucks' products will be available from Molson Equipment in England and Wales, with Molson Young Plant Sales looking after the brand in Scotland.
Molson Group, who offer a comprehensive range of products, including excavators, wheel loaders, crushers, screeners, shredders, and material handlers, among others, from market-leading brands, say Terex Trucks' ADTs are a natural progression.
'We are excited to include Terex Trucks' articulated haulers in our 360-degree product offering and we're looking forward to introducing our customers to the brand,' said Molson Group joint managing director Jonathan Wilson.
'There are lots of construction projects going on in the UK at the moment and with the recent product improvements Terex Trucks have made, under Volvo ownership, we know the TA300 and TA400 are high-quality machines that will be well suited to our customers' needs.'
Paul Douglas, managing director of Terex Trucks, said: 'With the Molson Group, we have a very experienced partner by our side, with a strong reputation for dedicated service support and reliable spare parts availability. With sites across the UK, the Molson Group will bring our TA300 and TA400 articulated haulers to a wider customer base.'
Terex Trucks have almost 70 years' experience developing and building robust and reliable off-highway haulers designed to maximize productivity and return on investment for customers. Terex Trucks were acquired by Volvo Construction Equipment in 2015 and have since made significant investments and improvements in their products, people and processes.
One example of the recent improvements Terex Trucks have made is the new transmission on the TA300, which has helped improve fuel efficiency, performance, productivity and operator comfort, compared with the previous model working in the same application.
The 28-tonne machine delivers a 5% improvement in fuel efficiency, a 5km/h increase in speed to 55km/h (34 miles/h) and a fourfold increase in oil maintenance intervals from 1,000 to 4,000 hours.
In addition, the TA300 now comes with eight forward gears as well as four reverse gears, to help ensure smoother gear shifting and, thereby, higher levels of operator comfort. The machine is also equipped with true independent front suspension as standard, further enhancing operator comfort and ensuring optimum traction control and maximum productivity in challenging conditions.
The TA400 – the largest articulated hauler on offer from Terex Trucks – has a maximum payload of 38 tonnes and a heaped capacity of 23.3 cubic metres. Powered by a high-performance, fuel-efficient engine that develops a gross power of 331kW (444hp), the TA400 is designed to meet the demands of extreme operations such as quarries, mines and large-scale construction projects. The machine's planetary gear transmission provides smooth, efficient gear shifting for optimized fuel consumption and reduced cost of operation.
Long-standing Terex Trucks dealers TDL will continue to service their UK customer base until early 2020.