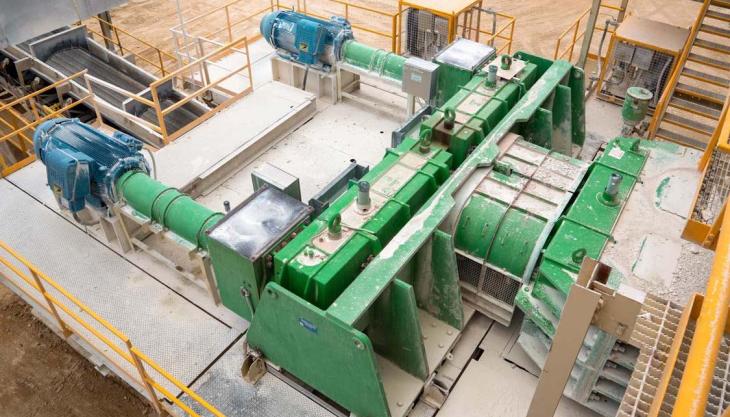 Sizer with bespoke drivetrain delivers twice the torque while using smaller motors to crush coral limestone
IN 1989, MMD were invited to Sac-Tun in Mexico to investigate how a Sizer could assist with the processing of coral limestone for use in the cement industry. The quarry's existing primary jaw crusher was failing to break the limestone with the material either stalling or being ejected from the machine.
MMD believed a Sizer could meet the customer's requirements, and what followed was a partnership which has continued for more than 30 years, where together MMD and the site operators discovered that when it comes to crushing, the hardness of a material is not necessarily its most important attribute.
Coral limestone features a honeycomb-like structure which compresses under pressure. This elasticity means the limestone resists breaking in compression and absorbs power, making it a particularly difficult material for a traditional crusher to handle.
All the limestone at Sac-Tun passes through one primary crushing station, so everything downstream relies on this one machine. In replacing the jaw crusher, the requirements of the Sizer were to reduce the limestone down from 1,200mm lumps to 300mm, achieve a throughput average of 2,000 tonnes/h, and remain reliable whilst being efficient to run.
Because the Sizer breaks rock under tension and shear rather than just compression, it is able to effectively cut through the limestone and avoid its natural resistance to compression. The Sizer is thought to be unique in this regard and may be the only machine capable of effectively crushing this kind of material.
Once installed, the Sizer proved successful in breaking the limestone, however in the early days the material's ability to absorb power meant the machine would still occasionally stall.
Working with the customer and following some initial variations and experiments, MMD designed a bespoke drivetrain and spur gearbox arrangement which timed the Sizer shafts together. This resulted in double the torque being delivered to the shafts, while drawing even less power from smaller motors.
This proved to be an ideal solution, simultaneously being more energy efficient and eliminating any stalls. Consequently, the quarry's production rate has increased significantly and annual targets are consistently met and surpassed.
Carlos Lesser, the site's operations manager, said: 'We've worked with MMD from the very beginning with a targeted production of 2,000 tonnes/h. Today we're producing 3,000 tonnes/h with an even smaller Sizer than the one we started with. MMD made an important effort to modify their technology to our specific needs and thanks to the Sizer we've enjoyed huge company success.'