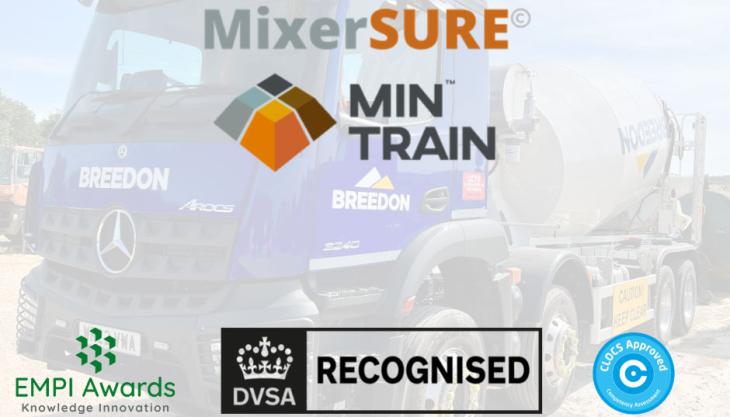 Training course and assessments receive stamp of approval from Driver and Vehicle Standards Agency
INDUSTRY training providers MinTrain have received another stamp of approval for their MixerSURE training and assessments from the Driver and Vehicle Standards Agency (DVSA).
The DVSA award, along with the accreditations from both EMPI Awards and CLOCS (Construction Logistics and Community Scheme), has long been the end goal for director Mark Cowan.
'We've had the application in for a while, and it was something we all agreed would bring greater recognition and complements the accreditations from EMPI Awards and CLOCS,' said Mr Cowan.
'Having previously put MixerSURE through two sets of rigorous accreditation processes, having DVSA recognized status proves that the regulatory bodies have confidence in what we offer, especially given that we are still a relatively new company.
'I've continued to push the industry to introduce specialist training and assessments for mixer drivers for many years, with so many excuses of why it wasn't needed and how well the industry has done historically, yet we continue to suffer mixer rollovers and other mixer incidents, so the industry hasn't done that well.'
MixerSURE provides the core fundamentals of a mixer driver's role and is supplemented by further modules that supply specific and specialist training content before drivers are assessed against the criteria in the mixer version of the SVCA (Site Vehicle Competence Assessment).
Mr Cowan continued: 'With so much focus on competence within our sector, there's a lot of confusion on what we accept as a competent driver and having a genuine competence solution has long been needed. Creating a constantly monitored standard allows us to keep improving the SVCA criteria, reflected by our many accreditations.
'This recent DVSA recognition has shown a solution to improving driver competence and can demonstrate a company's commitment to ensuring they operate at the highest standard by utilizing MixerSURE. We continue to place the same high standards on our TipperSURE content, so it's a 'watch this space' case in the coming months.'