New MPA report shows the sector is making a greater contribution to the economy than ever
NEW figures show that the UK mineral products sector is the country's biggest industry by volume and is making a greater contribution than ever to the economy. In its latest report, 'Profile of the UK Mineral Products Industry', the Mineral Products Association (MPA) highlights the industry's significant contribution to the UK economy through the domestic production of construction and industrial mineral products from 2,300 active quarries and plants nationwide.
Besides providing 419 million tonnes of essential materials – from aggregates and concrete for construction to industrial lime and industrial sand for manufacturing – the sector generated £22 billion in annual revenues and contributed £8 billion in GVA (gross value added) in 2021, the year on which the report is based.
With a direct workforce of around 80,000 people – plus an estimated 3.2 million jobs supported through the supply chain – the mineral products industry is also highly productive, with each worker producing almost £99,000 in GVA in 2021, well above the national average of £65,000.
The MPA report confirms the mineral products industry as an essential economic enabler for other sectors to thrive. Mineral products are as universal in, and essential to, everyday life as they are to broader economic activity, growth, and prosperity, and a healthy domestic mineral products industry is fundamental for developing UK infrastructure and improving living standards.
This is especially the case for construction – which accounts for the majority of the industry's output – where mineral products represent by far the largest component of the supply chain, providing raw materials to improve the UK's housing stock, transport networks, commercial and industrial buildings, energy and water infrastructure, and schools and hospitals.
The report goes on to emphasize that non-construction markets are also important, with mineral products playing a key role in the manufacture of iron and steel, ceramics, paper, glass, agriculture and horticulture, as well as water treatment, air pollution control, food, and pharmaceuticals.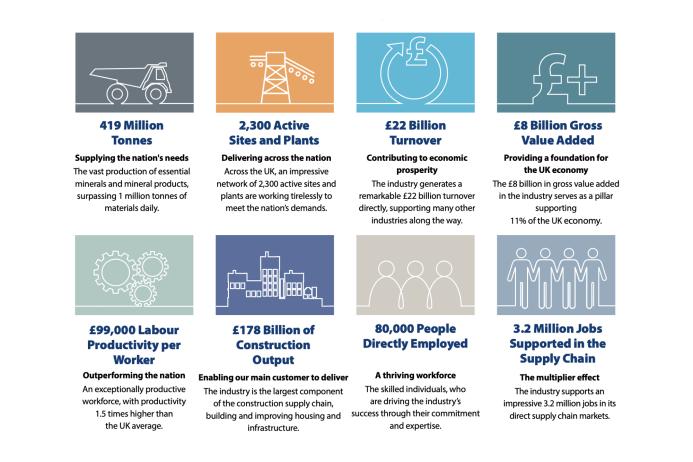 Aurelie Delannoy, MPA director of economic affairs and lead author of the report, said: 'This report is unique; the only study of its kind. It is testament to a sector without which life as we know it would not be possible, but that, unfortunately, too few understand.
'The UK mineral products Industry provides essential and economically, socially, and environmentally sustainable materials to build our economy and improve our way of life. Individually, we each create the need for just under four tonnes of aggregates on average each year. Key government policy ambitions, from infrastructure to housing and net zero, all hinge directly on the steady and secure supply of these products.'
Jon Prichard, MPA chief executive, said: 'Our latest 'Profile of the UK Mineral Products Industry' is a comprehensive overview of the significant contribution and benefits of our industry to the UK economy and our vital role in enabling other sectors of activity to thrive.
'Looking forward, producers face some critical challenges, such as securing the long-term supply of minerals, promoting circularity, and addressing climate change, including the industry's commitment to improving sustainability and achieving net-zero emissions. At the same time, the industry will continue to play an important role supporting nature recovery through the restoration of worked quarries.
'As we continue to foster growth and innovation in the UK economy, working towards a more sustainable future, we hope that this publication will serve as a valuable resource for policymakers, stakeholders, and anyone seeking to gain an understanding of the significance of the mineral products industry.'