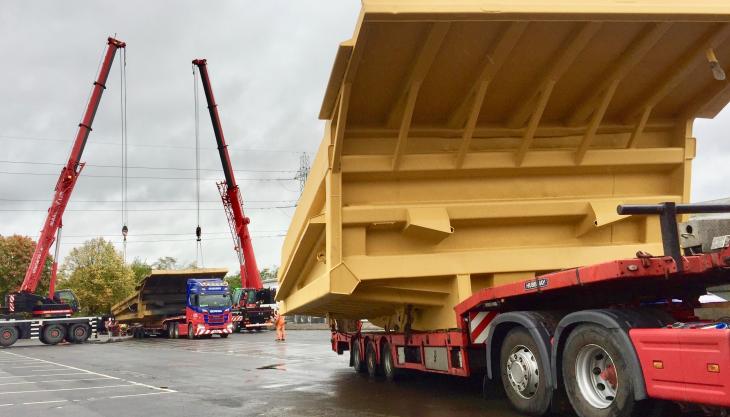 North East repairs specialist develops bespoke overhaul programme for Banks Mining
PERFORMANCE studies have shown that repair and refurbishment can increase the life of heavy plant equipment for around 60% of the cost of a new replacement. The decision to repair rather than replace heavy plant equipment is, therefore, a choice made by many businesses, Banks Mining being one of them. 
Banks have been mining coal at their Shotton surface mine, in south-east Northumberland, since 2008 and currently extract around 1million tonnes a year. With a daily output of up to 190 coal wagons, the site is operating at maximum capacity.
Maintaining these high output levels requires an extensive and well-planned maintenance schedule, particularly for the mine's fleet of haulers and its 14 Cat 785 skips, which are used to move overburden in the mine. Over time these skips are exposed to heavy wear and tear, and to extend the lifespan of their fleet Banks Mining have initiated a refurbishment programme.
The first stage of the fleet refurbishment programme was a full overhaul of a 150-tonne Cat 785 skip. This task fell to local mining and construction attachment specialists Miller UK, who have more than 40 years' experience in the mining repairs sector.
Miller UK's dedicated repair centre developed a bespoke overhaul programme for Banks Mining, including a comprehensive full dump body inspection and scheduled overhaul timeframe of just eight weeks.
'This was a big job with lots of challenges and we used all of our expertise to carry out a full overhaul of the skip to meet the specific site requirements for Banks,' said Conor Thompson, manager of Miller's Specialist Products Division. 'The body design has been optimized for maximum wear resistance, strength and reliability over the lifetime of the skip.'
The eight-week refurbishment of the Cat 785 skip included full internal relining, plus new external panels, canopy, duck tail and undersides manufactured from high-strength steel and lined with Hardox.
In addition to the replacement of key structural points of the body, severe cracks on most of the underside bolsters were gouged out and re-welded before the skip was repainted. Upon completion, newly installed lifting points were checked and certified before the skip was lifted on to a low-loader for delivery back to the coal mine.
'This was a large and complex repair and it made sense for us to use Miller's expertise for this project. They offered us a free on-site inspection as well as an impressively quick turnaround, which has helped us to reduce our downtime,' said Andrew Palmer, plant supervisor at Banks Mining. 'We're so happy with the job they've done, we've had a second Cat 785 skip collected by Miller and work has begun on another full overhaul.'