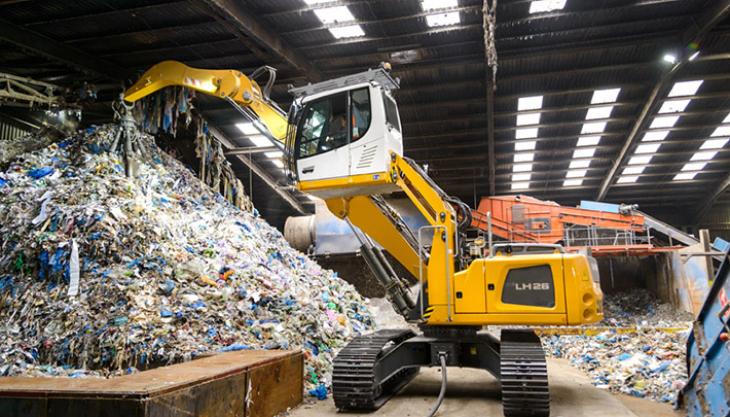 Equipment manufacturer delivers another LH 26 CE electric drive material handler to waste-management firm 
LIEBHERR Great Britain Ltd have delivered a second LH 26 CE material handler to Lincolnshire-based Mid-UK, who already run a large Liebherr fleet handling waste operations around the country. 
In total, seven electric LH 26 machines have been ordered by Mid-UK. A spokesman for Liebherr said: 'The use of electric power for excavators has mainly been confined to large mining excavators but there are certain applications in the UK where the use of electrically powered machines is being championed.  
'The waste industry has been an early adopter of this technology with static mounted plant being electrically powered for many years.'
Developed around a standard material handling variant of the company's 24-25 tonne LH 26, the CE model sits on a 2.4m crawler undercarriage, offering 'exceptional stability even when working at maximum radius across the tracks,' according to Liebherr. 
The machine features 110kW electric motor in place of the diesel engine which means there is no exhaust pipe and there is a large reversible fan to ensure the motor and cooling systems are kept at the lowest working temperatures at all times.
From the top work platform, the 'engine' cover is simply lifted up on gas struts to provide easy access to the top of the 110kW induction drive motor, which achieves full power at 1,489 rev/min.
The LH 26 CE is available with a wide range of materials-handling boom and dipper configurations. Mid-UK have specified the GA10 attachment, which comprises a 6.1m straight boom and 4m angled stick. With this configuration a 0.6 cubic metre, five-tine grab can be fitted; giving the machine a maximum reach of almost 11m.