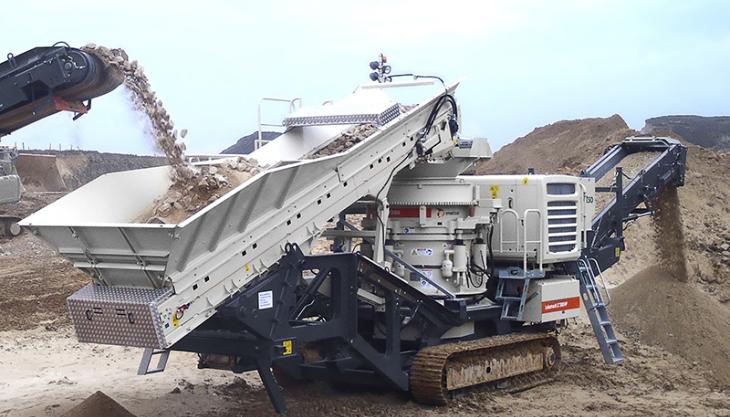 Wai Kee Holdings Ltd take delivery of 10 Lokotrack units and four CW-wheeled conveyors
WAI Kee Holdings are now producing consistent-quality aggregates more cost-efficiently at their Lam Tai Quarry in Hong Kong, thanks to the supply of 10 Metso Lokotrack mobile crushers and screens, and four Metso CW-series wheeled conveyors.
To reach the required capacity at the quarry, the Metso fleet consists of two trains, each one comprising five Lokotrack units (an LT120 jaw crusher, two LT300HP cone crushers and two ST4.8 mobile screens) and two conveyors. Both trains will create the same aggregate products.
'As a customer, we are interested in the end-products; their shape, quantity and cost of production are key parameters for us,' said Derek Zen, vice-chairman of Wai Kee Holdings.
'To achieve the best results, Metso offered a complete solution – not just the machines themselves. Thanks to the process know-how of Metso's experts, the right solution to produce uniform-quality aggregates was found.'
The compact layout of the crushing and screening process at Lam Tai Quarry has been tailored to meet the customer's specific requirement to produce aggregates in four size ranges.
The Lokotrack units will operate for 10–12h a day to achieve the planned production capacity of 1.5 million tonnes per annum, with most of the materials destined for use in Wai Kee's own concrete batching plant and asphalt plants.
'With good quality and constant cubicity, less cement additive is needed, resulting in real cost savings,' said Mr Zen.
He added: 'The mobile solution from Metso was a clear choice for us. As an investment, this fleet costs less than a stationary plant, is quicker to install and easier to relocate.
'Also, we wanted a technology partner that could add value to our operations by delivering high-quality results and help us meet demanding timelines. Metso were able to address our concerns and provided a customized solution for us.'