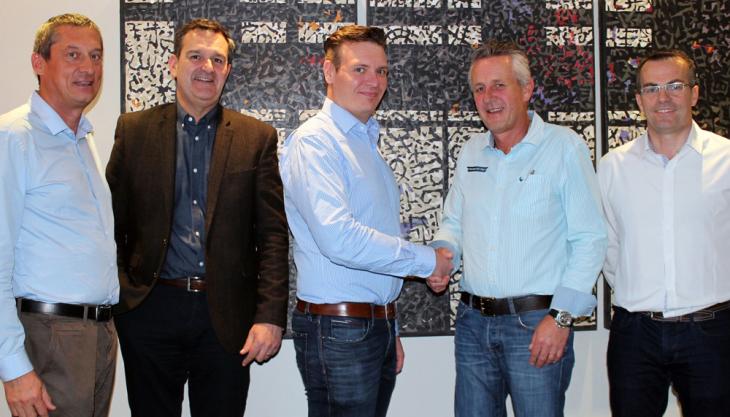 Pilot Crushtec appointed as main distributor of Metso's aggregates products and services in southern Africa

PILOT Crushtec International have been appointed as the sole southern Africa distributor for Metso's aggregates products and services.
Adrian Wood, Metso's head of global distribution - Aggregates, described the joint agreement, which came into effect on Saturday 2 April 2016, as 'a really exciting development'. 'Service is a vitally important aspect of our business and Pilot Crushtec International's recognized strength in this discipline will be of significant benefit to our customers,' he said.
Mr Wood added that, over time, the companies had gained a mutual respect out of their ability to stay the course for nearly three decades in an exceptionally demanding and competitive industry. 
Pilot Crushtec International's chief executive officer, Sandro Scherf, believes the association with Metso will offer a wealth of opportunities to both partners, as well as improving Pilot Crushtec's product offering to customers operating modular plants.
'We will be marketing all aggregate-producing products within the Metso range including static, tracked and wheeled crushers, scalpers and screens,' he said. 'An added benefit, which will certainly appeal to our Pilot Modular customers, is that Metso static crushers and screens will, in future, be specified as original equipment for this semi-mobile range of products.'
Mr Scherf continued: 'We have direct factory support from Metso in Finland, which includes one of their senior technical specialists being in residence here for a significant part of the year. In addition, we have the immediate benefit derived from Metso South Africa's service hub, which is also based in Jet Park.'
Pilot Crushtec International have already committed to a sizeable inventory investment in finished products and spare parts, and have addressed matters related to after-sales service. The company has taken on board 11 of Barloworld's sales and support team, to ensure the operation will be up and running from day one.
Eric Bonin, Metso's general manager of distribution in Africa, Middle East and Turkey, added: 'Crushing and screening is a niche business and we needed an associate with the knowledge and experience that would provide us with an effective window into the market. Now that we have the right partner we have great opportunities. A lot of boxes have been ticked from day one and we believe our brand is in very good hands.'
Pictured above at the signing of the joint agreement are (left to right): Eric Maricot, vice-president Southern Africa Sales Metso; Adrian Wood, Metso's head of distribution – Aggregates; Jarkko Leppänen, Metso distribution business manager (Southern Africa); Sandro Scherf, chief executive officer of Pilot Crushtec; and Eric Bonin, general manager - AMET distribution.