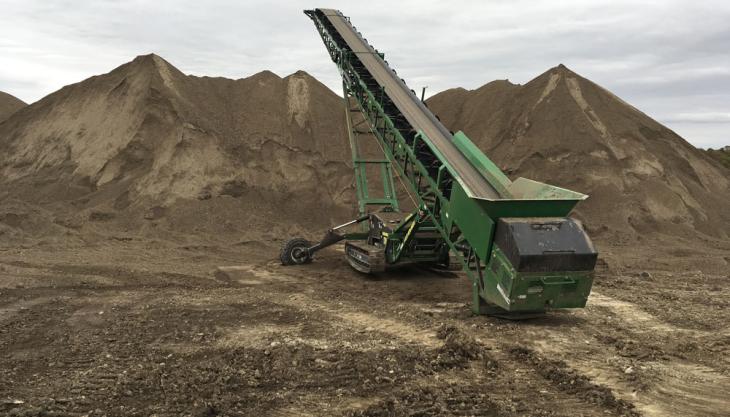 Patent pending design offers on-site mobility and high throughput capacity 
EQUIPMENT manufacturers McCloskey International have launched a new range of all-terrain stackers. Blending the benefits of on-site track mobility with the high productivity of a radial conveyor, the portable units have been designed to switch from track to radial mode in seconds.
Available from 60ft to 150ft, the stackers can be moved from site to site without the need to remove the foldable wheels for transportation. Built-in levelling indicators help operators to position the stacker regardless of the ground evenness, with independent hydraulic jack legs to stabilize once the unit is in place.
Historically, tracked radial stackers in the market have been designed with a track bogie under the hopper. McCloskey say while this provides mobility, it also creates an obstacle for the stacker during operation with build up and spillage of material blocking the tracks. This often raises the height of the stacker such that additional transfer conveyors are requited.
The patent pending design of McCloskey's radial track stacker is said to eliminate the need for any additional equipment, delivering a clean radius without material build up.
The mobile units feature a unique rear counterweight that counter balances the tracks and wheels, which are behind the stacker's centre of gravity. The design also provides a much higher stockpile capacity, with the radial wheels set well back. The rear counterweight firmly anchors the tail end during radial mode, delivering greater stability to the stacker during operation.
'Helping customers achieve greater production levels is what drives us to design and manufacture innovative products,' said Paschal McCloskey, president and CEO of McCloskey International. 
'This patent pending design evolved from watching and listening to our customers' challenges when stockpiling material in a variety of conditions and locations. We will continue to look at developing new products to meet these unique challenges around the globe.'