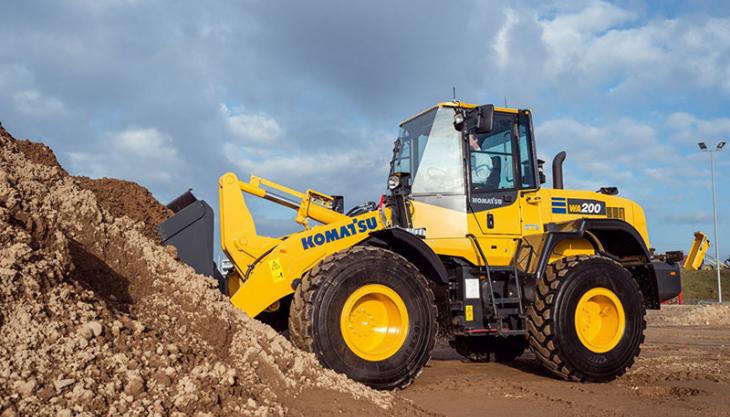 Latest model offers reduced fuel consumption, increased productivity and greater operator comfort
MARUBENI-Komatsu have announced the launch of the WA200-7 wheel loader model, which, the company says, has been designed to offer reduced fuel consumption, greater operator comfort and optimized serviceability to maximize productivity with minimal operating costs.
The new wheel loader is powered by a Komatsu SAA4D107E-2 engine (128hp), which fully complies with EU Stage IIIB exhaust emission regulations. It uses an advanced electronic control system to better manage airflow rate, fuel injection, combustion and exhaust after-treatment to optimize performance and fuel usage.
The machine also incorporates Komatsu's Parallel Z-bar (PZ) loader linkage, which is said to combine the benefits of parallel-lift linkage for pallet handling with the advantages of a Z-bar linkage's optimum tilt forces for handling large attachments.
The WA200-7 features an electronically controlled hydrostatic (HST) powertrain system that utilizes traction control to facilitate operations on soft or slippery ground. The wheel loader has simplified controls: auto mode; and S-mode, the latter of which reduces the tractive effort when travelling at low speed and offers optimum driving force. For improved safety and precision, the machine is equipped with variable shift control that allows the operator to set the speed from 1km/h up to 14 km/h.
The new cab provides a more comfortable and quieter working environment. It includes a redesigned seat-mounted right-hand console with a multifunctional mono-lever to provide complete control of, for example, hydraulic attachments such as high dump or grapple buckets.
For enhanced serviceability, the machine has an increased cooling capacity, with a wide-core radiator that prevents clogging even when the loader is operating in dusty environments. To reduce manual cleaning, the WA200-7 is equipped with a reversible and swing-out fan that blows out dust either automatically or 'on demand'.
The machine is equipped with the Komatsu EMMS (Equipment Management Monitoring System), which has enhanced diagnostic features to give operators and technicians greater monitoring and troubleshooting capabilities.
The WA200-7 wheel loader is supported by Komatsu CARE, a complimentary maintenance programme for Komatsu customers that comes as standard with every new Komatsu EU Stage IIIB construction machine. It will also have the latest KOMTRAX technology, which sends machine operating information to a secure website utilizing wireless technology. Data such as operating hours, location, cautions and maintenance alerts are relayed to the web application for analysis.