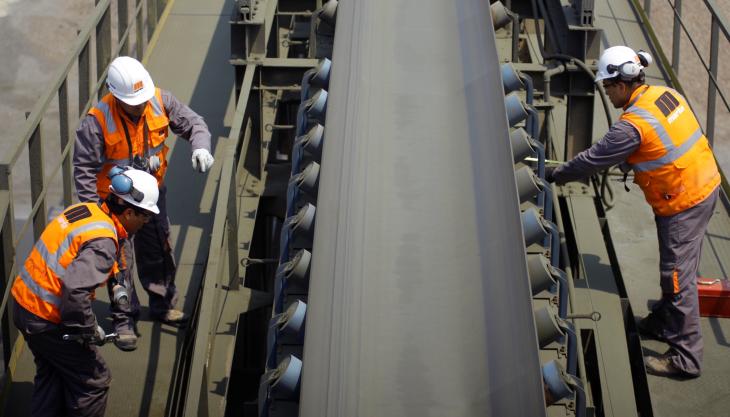 Bulk materials handling equipment specialist marks three-quarters of a century in business
ALL around the world, Martin Engineering are marking their 75th anniversary with local celebrations and promotions to share the success of a firm that has become synonymous with innovations in bulk materials processing that eliminate blockages, prevent spillages and reduce airborne material.
Established at the end of the Second World War in Illinois, in the US, by Edwin F. Peterson, the father of current chairman Edwin H. Peterson, Martin Engineering have grown into a worldwide business. Today, the firm has offices and operations across six continents, yet has remained a family-owned business.
The company's inception in 1944 came after Edwin F. Peterson, a foundry pattern maker, watched his co-workers struggle to overcome sand blockages on the foundry's mold-making machines by pounding the hoppers with hammers. He was troubled by the health and safety risks, equipment damage and loss of productivity that resulted.
Those concerns prompted him to design the Vibrolator, an industrial vibrator which utilizes the rotation of a single steel ball in a hardened steel raceway, propelled by compressed air. Patented in 1949, it was the first in a long line of innovations introduced by Martin Engineering to solve problems in bulk materials handling.
One of the early milestones in the company's history was the decision in the 1960s to start developing high-performance components for conveyors. That catapulted Martin Engineering into a market-leading position with a comprehensive product line of belt cleaners, dust-control products, transfer-point solutions, safety components and many other innovations to improve bulk materials handling.
After expanding overseas, Martin Engineering recognized that safety and productivity could be further improved through the knowledge and skills of those workers responsible for operating and maintaining processing plants.
That gave rise to a commitment to invest heavily in education and training for their customers – a defining moment which led to the development of Martin Engineering's internationally recognized 'Foundations' series of reference books and training programmes. First published in 1991, more than 20,000 print copies of the books are now in circulation around the world.
Today, Martin Engineering's product portfolio includes the pioneering CleanScrape conveyor belt cleaning system – said to be the only product of its kind on the market – as well as next-generation air cannons and Smart-series nozzles.
More recently, Martin's solutions-driven approach has led to innovative services such as the Mr Blade conveyor belt optimization programme – a direct-to-site service for the monitoring, maintenance, specification, replacement and custom-fitting of belt-cleaner blades.
Already successful in the US and UK, Mr Blade is now being launched across Europe as an efficient way to keep conveyor belts running at optimum performance and make the working environment a cleaner, safer and better place.
Now in their 75th year, Martin Engineering have this year expanded into the Middle East market, partnering with local specialists to bring their range of products to Oman and United Arab Emirates for the first time.
Robert Whetstone, the company's area vice-president for Europe, Middle East, Africa and India (EMEAI), said: 'We pride ourselves on developing bespoke solutions that address specific problems and that means we invest heavily in research and development.
'Our hands-on approach to improving knowledge and skills among our customers' workforce has helped us to build loyalty and a deep understanding of the evolving issues they face. It is rewarding to know we're helping to improve health, safety and productivity for our customers.'