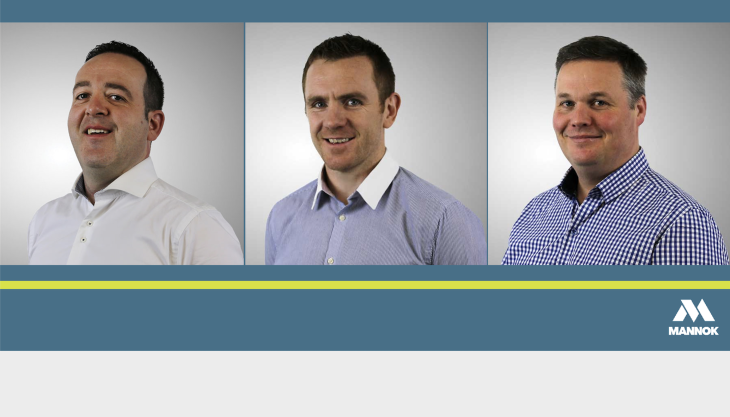 New appointments to strengthen focus on key geographical regions and core market segments
MANNOK have announced new appointments and a restructuring of their Irish sales management team to position for continued growth in the market. With three new appointments, the restructure is designed to strengthen the focus on key geographical regions and core market segments by ensuring dedicated management resourcing.
Paul Dunne and Martin McGrath have been appointed as sales and marketing managers for the Republic of Ireland and Northern Ireland respectively. Both will manage and develop their sales teams whilst focusing on strategic growth in the regions across the full Mannok product portfolio. Ensuring customers receive the best support from the Mannok team and strengthening existing partnerships whilst identifying opportunities for expansion will be key priorities.
Meanwhile, Bryan Hanrahan has been appointed as construction commercial manager, a new role dedicated to the house builder and contractor market, with a focus on the Dublin region and the eastern part of the country. The role will bring particular focus to developing these relationships through strategic commercial partnerships. Mr Hanrahan will play an integral role in advancing Mannok's ties with those at the fore of Irish construction and maximizing sales opportunities within this key market segment.
Commenting on the restructure, Mannok's chief executive officer, Liam McCaffrey, said: 'The changes we've made to the structure of our Irish sales management team are reflective of a changing industry and our intention to ensure each market segment has dedicated management resourcing.
'Our merchant customers, who play such a crucial role in the success of our business, will be serviced on both sides of the border with the appointment of Marty and Paul, two very experienced hands-on individuals who will bring a renewed energy to their respective regions.
'Bryan will step away from the merchant market and focus on strengthening our position with house builders and contractors, a key segment which until now we haven't had a dedicated management resource for. There are significant opportunities for mutually beneficial commercial development in this space, which warrants the appointment of a seasoned industry professional such as Bryan.
'Our ongoing success in the Irish market is in no small part thanks to the strength of our sales team. Paul, Marty and Bryan have been very much a part of that success and I believe they will each play a significant part in continuing to grow and develop our business under the new Mannok brand. Their recent appointments are reflective of the individual contributions they have made to date and I'd like to congratulate them and wish them every success in their new positions.'