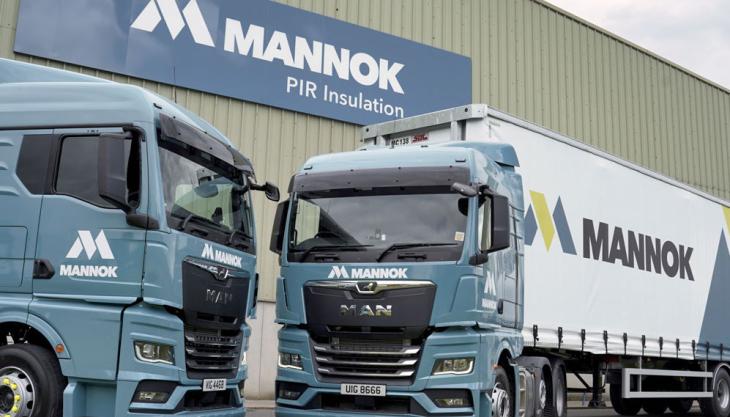 Programme continues with arrival of 15 new curtainsiders, 12 tractor units and five rigid trucks
MANNOK's fleet-replenishment programme reached another milestone in April with the delivery of 15 new SDC curtainsider trailers – the latest phase of the programme to replace all older vehicles and plant with upgraded new vehicles to reduce environmental impact and provide greater efficiencies.
Since the multi-million-pound programme of investment began in 2015, the company has purchased a total of 126 new vehicles for its road-going fleet and off-road mountain fleet.
In addition to the new curtainsiders, Mannok are adding 18 new tractor units to their fleet, with six already in operation, a further six to be received this month and the third batch of six commissioned for delivery by the end of 2021.
Each of the new MAN TGX26.470 tractor units will meet Euro 6 standards for emissions, helping to fulfil Mannok's wider sustainability goals.
Mannok's transport manager, Brian McManus, said: 'We're reaching a significant milestone as we are now starting to replace the vehicles that were purchased in 2015 when the fleet-replenishment programme began.
'As part of the continuous programme, the older vehicles and plant machinery are replaced with newer, more fuel-efficient models, which is an important part of ensuring the highest standards of fleet safety and efficiency, whilst at the same time reducing the overall environmental impact.
'The fleet is used to haul everything we manufacture from packaging to cement, insulation, roof tiles, tarmac, precast concrete, blocks and a range of quarry aggregates, as well as the haulage of raw materials to each manufacturing facility.
'The reliance on our substantial fleet means maintaining the premium condition of all units is essential and the ongoing investment in the form of our fleet-replenishment programme ensures we can achieve this.'