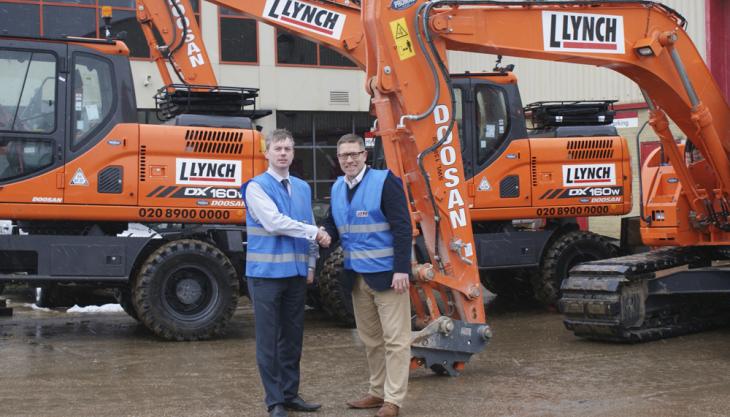 Lynch Plant Hire Ltd have taken delivery of a wide range of new Doosan excavators, which together are worth nearly £4 million, from Berkshire-based Promac Solutions Ltd, the authorized Doosan dealer for south-east England. This forms part of a £12 million purchase plan for machinery for 2013.  
The new Doosan machines are available for hire from the Lynch London 'super depot' in North London, the Lynch Midlands depot at Rushden in Northamptonshire, and from various satellite depots around the country. 
Merrill Lynch, operations director at Lynch, said: 'The Doosan range offers an excellent return on investment, meeting the high-performance, fuel efficiency, reliability and safety standards required by Lynch and our customers. Added to the high-standard specification of Doosan wheeled and crawler excavators, all the machines offer safety features such as automatic dual-locking quick hitches and many are fitted with audible reverse alarms and reversing cameras to further enhance safety. Coupled with the excellent aftersales service from Promac Solutions, the Doosan brand ticks all the boxes for us.'
As part of the order placed with Promac Solutions, Lynch have chosen the Doosan DX300LC 30-tonne and DX380LC 38-tonne large crawler excavators, but the overall investment encompasses all areas of the Doosan wheeled and crawler excavator range covering weights from 3 tonnes to 38 tonnes.  
The Doosan wheeled excavator range features prominently and includes standard configuration DX140W, DX160W, DX190W and DX210W excavators. Lynch have also purchased the articulated boom version of the DX190W wheeled excavator more commonly seen on the continent.
The latter machine is a perfect illustration of the 'can do' attitude adopted throughout the Lynch business. Merrill Lynch added: 'At Lynch, we will always go the extra yard to satisfy customers' needs; addressing factors such as access, slew, height and safety requirements to come up with solutions that really get the job done for the contractor. We work closely with suppliers such as Promac and Doosan to procure products that make these solutions a reality.
'The Doosan articulated-boom DX190W wheeled excavator is a good example, where we purchased a machine to meet a special requirement from one of our rail customers. We have also had Doosan DX140LC 14-tonne excavators specially modified with diesel particulate filters to meet strict environmental restrictions for work in shafts and underground.'
Every Lynch machine and attachment goes through an extensive pre-delivery inspection before it arrives on site, ensuring that when it starts to work it is in perfect condition. In order to extend the Lynch health and safety ethos onto every site, a range of extras are available, such as safe-load indicators and height restrictors. This helps ensure that when a machine is working it is working as safely as it can be.
The same commitment to health and safety can be seen in the extra training that Lynch personnel undergo, covering environmental and site-specific inductions as well as that for sector-specific training cards.  
This is supported by accreditations to the Building Confidence Scheme (Achilles), FORS (Transport for London), 14001 (Environmental ISO), Constructing Better Health and other important schemes.
The same 'can do' philosophy underpins the approach taken by the Direct Solutions Team that works from the Stanmore super depot, which has been set up to offer customers a fully national service through Lynch partners across the country.