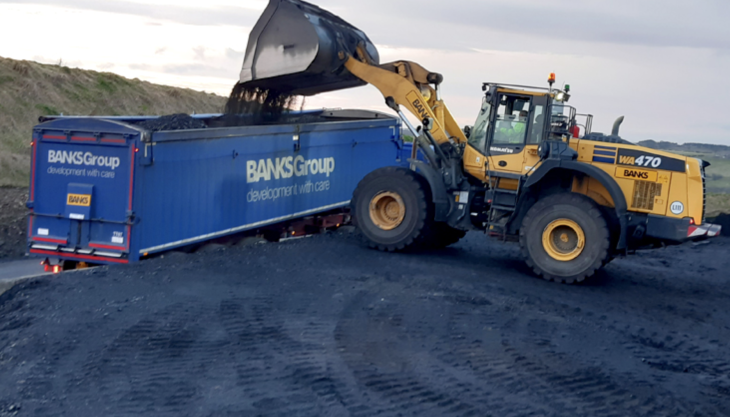 Durham County Council experts recommend Bradley West surface mine planning application for approval
THE planning application for a small extension to the Bradley surface mine in Co. Durham has been recommended for approval by Durham County Council's expert planning officers.
Banks Mining are looking to extract around 90,000 tonnes of high-quality coal for supply to UK industrial customers, as well as 20,000 tonnes of fireclay for use by regional brickmakers, from an 18.5ha area to the west of the current Bradley site.
The planning officers' report states that 'the national, local and community benefits that have been considered…clearly outweigh (the scheme's) likely impacts' and that 'it is considered that the proposal would be environmentally acceptable with the application of appropriate planning conditions and obligations'.
It also notes that its restoration proposals 'would deliver a quality restoration and after-use of the site with opportunities to increase biodiversity interests' and that 'the scheme as a whole has been designed to be worked in a way that would limit the environmental effects on local communities'.
Lewis Stokes, community relations manager at The Banks Group, said: 'Our highly skilled team have been producing high-quality coal at Bradley for more than two years in the safest, most efficient and most responsible way possible, and have operated the site to the highest environmental standards.
'As the planning officers themselves highlight in their report, British industry still needs coal and fireclay for a range of essential manufacturing processes, including the steel, cement and brick sectors. While this remains the case, it doesn't just make economic sense to use the coal we can produce here, but social, ecological, environmental and climate sense too.'
The Bradley West extension would provide continued employment for the 39 people currently working at Bradley, more than half of whom live within 10 miles of the site, as well as additional investment in the local supply chain.
It would also allow Banks Mining to increase their support for local community groups and charities by providing a further £48,000 for the Bradley community benefits fund.
The family-owned firm has committed to completing operational and restoration work on the extension to the same August 2021 deadline to which the existing Bradley site is operating, if it is able to move the project forward through a positive local planning decision.
Mr Stokes continued: 'Given the extraordinary economic and employment challenges now facing the North East and the wider country as we emerge from the COVID-19 lockdown, it makes greater sense than ever to meet UK industry's continuing need for essential minerals like coal and fireclay from UK resources, rather than continuing to increase our reliance on overseas supplies which release greater greenhouse gas emissions through their mining and transportation.
'Doing so also supports much-needed and highly skilled northern jobs and supply chains, delivers regional environmental and conservation enhancements, and boosts the UK's balance of payments.
'We very much hope that Durham County Council's planning committee members will now allow us to produce more of the coal that British industry very much needs within our home county.'
The planning application is set to be considered by Durham County Council's planning committee on Wednesday 1 July.