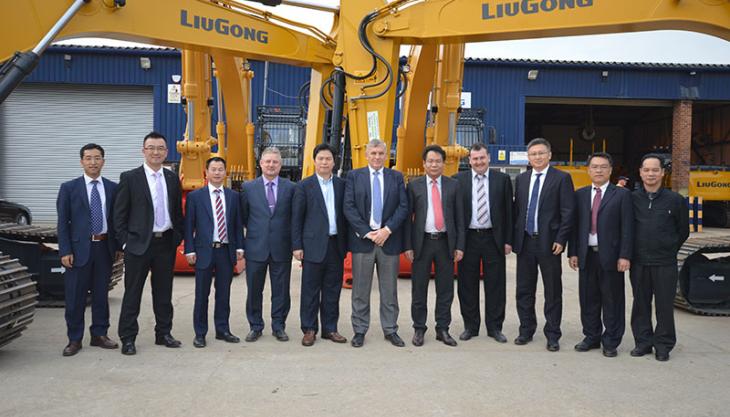 UK dealer hosts gathering of senior management and officials from China and Europe
CONSTRUCTION Plant & Machinery Sales (SE) Ltd, the main UK dealers for LiuGong construction equipment, recently hosted a gathering of LiuGong senior management and officials from China and Europe, headed by the president of Guangxi LiuGong Machinery Co Ltd, Yu Chuanfen.
Mr Yu Chuanfen and his group were given a tour of a number of UK sites where LiuGong machines are hard at work, prior to a visit to Construction Plant & Machinery Sales' premises in Portsmouth, to witness the company's extensive spares department and machines being PDI checked ahead of delivery to their customers. This was followed by a visit to LiuGong's European Industrial Design Centre the next day.
Asked about how he thought LiuGong were performing in the UK market so far, Mr Yu Chuanfen said the company had done a lot of preparation work before entering this market in terms of adapting its products, and setting up service and support and spare parts systems.
Our main goal is to provide efficient and reliable products with excellent back-up, in conjunction with our dealer partner,' he said. 'The rapid increase of LiuGong sales and fantastic feedback from our UK customers signify that our strategy was spot on for this market.'
Commenting on LiuGong's range of machines, Mr Yu said: 'We currently have 15 product lines, and if a new product can meet the demand of the local market, we will introduce them to the UK too. It is our aim to provide more machines for our customers and partners in the UK and to make more of a contribution to the continued development of the British economy long term.'
LiuGong recently launched their new E-Series Tier IIIB emissions-compliant excavators to the European market and these machines are already being well received in the UK, in addition to a growing reputation with customers in Norway, Sweden and the Netherlands.
Research and development of larger excavators is ongoing, with LiuGong already launching a 50-tonne class machine into the Chinese market and some emerging markets, and a 70-tonne class machine is currently undergoing field trials in China. If demand exists, these machines could potentially be made available to the UK market over the coming years.
Visitors to Bauma China in Shanghai next month will be able to witness the launch of the new LiuGong H-Series wheel loaders, which are the first LiuGong machines to be penned by the company's UK-based design team.
LiuGong have ambitious plans going forward, and when asked where the company sees itself in the future, Mr Yu Chaunfen said: 'We are a world-class construction equipment supplier providing global customers with excellent construction equipment and service. The UK market will play a strong part in helping us to achieve our long-term goal.'