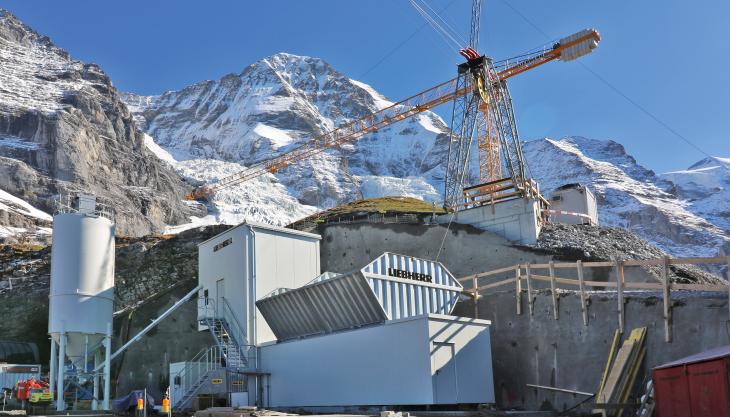 Compactmix 1.0 concrete mixing plant operating successfully at an altitude of 2,340m
A LIEBHERR Compactmix 1.0 concrete mixing plant is currently supplying the construction site for the 'V-cableway' (or 'V-Bahn') project near Grindelwald in the Swiss mountains – a challenging project in terms of both logistics and on-site operation.
The Grindelwald-Männlichen Gondola Cableway company and Jungfraubahn railway company are building a V-cableway that will open up both the Eiger glacier and the Männlichen (Bernese Alps).
From a joint terminal in Grindelwald-Grund, a tri-cable aerial cableway will lead to the Eiger glacier and a 10-seater aerial gondola cableway to Männlichen. In addition, the new Rothenegg station will give the V-cableway a direct connection to public transport.
In order to implement the scheme, project managers at ARGE V-Bahn Oberland were looking for a mixing plant with particular properties, and they found precisely what they were looking for in the Liebherr Compactmix 1.0 A-R/RIM-M.
The plant's compact design, system performance and pre-assembled, transport-optimized modules were decisive factors for the decision-makers. Built on the Eiger glacier at an altitude of 2,340m, the plant components were transported to the construction site by two-axle truck and dumptruck.
Capable of producing up to 60 cubic metres of concrete per hour, the plant is equipped with a ring-pan mixer with agitator system for optimum mixing results. Aggregates and cement are delivered to the plant by aerial cableway and fed directly into the silo/bins. For concrete production at low temperatures, the plant is also fitted with a winter-proof housing.
The CHF470 million V-cableway project is scheduled to open in time for the 2020/2021 winter season.