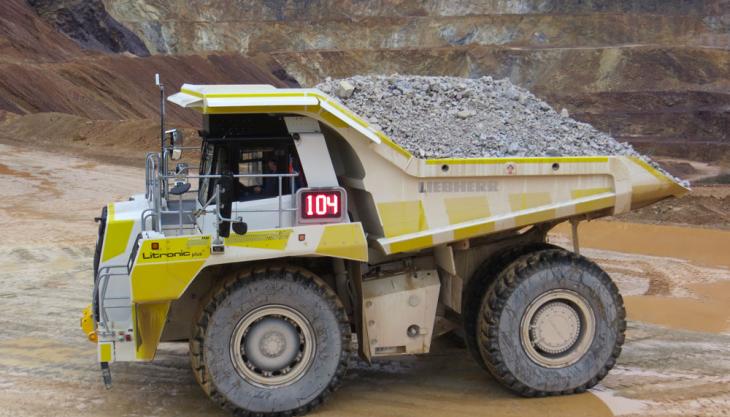 New 100-tonne-class machine currently undergoing field trials at Austrian iron ore mine
MORE than 1,000m above sea level in the Austrian Tyrol, a 100-tonne Liebherr T 236 rigid dumptruck is helping VA Erzberg to deliver up to 4 million tonnes of iron ore a year to fellow Austrians Voestalpine.
Voestalpine make high-quality lightweight steels for the automotive industry and are VA Erzberg's only customer, and VA Erzberg are using the only Liebherr T 236 in the world at their opencast mine.
It is a good testing ground for the T 236 because of the conditions it offers, with some steep slopes to negotiate and temperatures that vary from +40ºC in the summer to –20ºC in the winter.
The T 236 rigid-frame dumptruck, which marks Liebherr's entry into the 100-tonne class, made its debut at Minexpo in Las Vegas last year. Following the successful completion of the testing phase, the T 236 has now started its first field operation trials at the Erzberg mine, with general release scheduled for next year. 
Like its biggest brother, the 400-tonne Liebherr T 282, the 236 is actually a hybrid, with a diesel-electric drive system. The T 236 capitalizes on decades of Liebherr experience of off-highway truck technologies to introduce a vertically integrated Litronic Plus Generation 2 AC drive system to the 100-tonne class.
This advanced active front-end technology makes use of electrical energy during retarding, so the alternator is used as a motor to propel the vehicle. Engine friction is used for retarding and provides power to the auxiliary drives on the back axle, delivering controlled engine speed with hardly any fuel consumption. 
Drivers have praised the manoeuvrability of the truck and also like the ergonomic cab and comfortable front wheel suspension. As Dr Burkhard Richthammer, the managing director of Liebherr's Mining Equipment Colmar SAS, remarked: 'Liebherr are committed to designing mining trucks that operators want to drive. The result: comfort, safety and improved productivity with lower fuel consumption.'
Designed to carry a 100-tonne payload (but with up to 10% overload expected and catered for), when paired with the R 9100, R 9150, R 9200 or R 9250 mining excavators, the T 236 provides the most complete high-performance and scalable truck-shovel match, delivering a good combination for production requirements.
When it is time for maintenance or a service, Liebherr's unique Litronic Plus Isolation system is designed to keep maintenance personnel safe by eliminating hazards. The T 236 is equipped with double-pole battery, starter motor and hoist-system isolators as standard. In addition, there is a drive system inhibitor, electrically interlocked to grounding devices for each plug-and-drive power module.