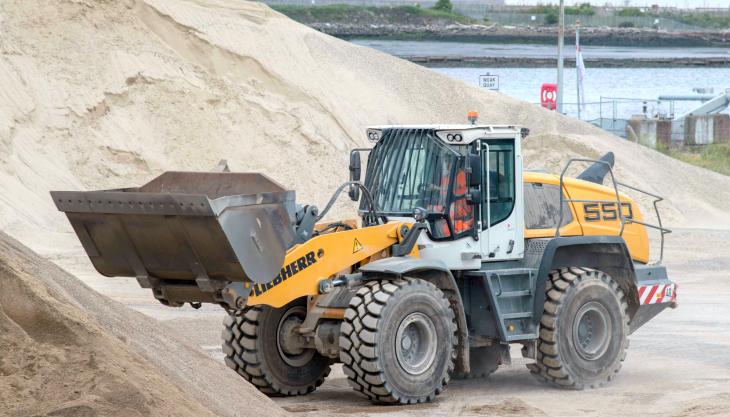 Concrete firm purchases two L 550 XPower wheel loaders plus four HTM 905 Liebherr mixers
JAMES Greenwood is managing director of Ready Mix Tees Valley, and with a move to a new yard on the banks of the river Tees allowing a step-up in production, keeping the batching plant supplied with material was crucial. But there was a 'but'.
After experiencing problems with his existing wheel loaders, Mr Greenwood knew he needed something more reliable to cope with the higher production levels, and Liebherr provided it…twice.
'We had used a number of shovels for stocking the plant since we started operations,' he explained. 'But both manufacturers' products had caused us some issues with reliability and build quality. That was something we couldn't afford with the increase in production from the new batching plant.'
It was at this point that Michael Atkinson, Liebherr GB's wheel loader product specialist, and area sales manager Carl Longhorne stepped in. They suggested a trial of an L 550 XPower, whose fuel consumption of less than 6 litres/h, cab comfort and productivity all provided a convincing argument to seal the deal.
The human element was also important to Mr Greenwood. 'We have been extremely impressed with everything about the deal,' he said. 'The interaction we've had with everyone at Liebherr has been excellent from day one. They have been honest and open, something we don't always see in this industry, and as a family company like ours, the way they approached the deal was refreshing.'
Tees Valley have joined forces with another local family-owned firm, Shire Aggregates, who occupy part of the large yard area. They import aggregates by ship from around the UK, more than 80% of which is used by Tees Valley for concrete production.
As the largest concrete supplier in the area – 50,000 cubic metres last year – the introduction of the Liebherr loader is said to have made a real impact on Tees Valley's operations.
The company was launched in 2008 when Mr Greenwood gave up his position with a major pharmaceutical company to invest in concrete. He now runs two depots on the banks of the Tees with another just getting under way in Leeds, where he has recently bought a second Liebherr L 550.
As well as the two new loaders, Tees Valley have bought four HTM 905 Liebherr mixers mounted on Mercedes-Benz chassis, all provided by Northside Truck & Van, who have a rolling stock truckmixer programme with Liebherr.
The mixers are highly specified and include user-friendly features such as remote grease points, sub-frame covers and the Litronic EMC Controller.