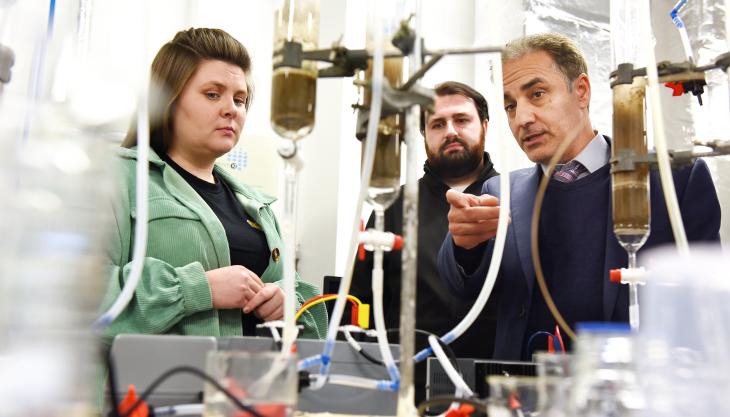 Researchers from Teesside University helping to create carbon-neutral cement
AN environmentally sustainable building material which could significantly reduce the carbon footprint of the construction industry is being developed with the support of Teesside University. Academics from the university are collaborating with industry partners on a £7.6m project entitled 'Mevocrete' aiming to develop a new form of concrete made from the by-products of the steel and chemical industries.
The resulting product from the Mevocrete project emits up to 85% less carbon dioxide when compared to a traditional concrete made from Ordinary Portland Cement (OPC). Concrete is an essential material in the construction industry and the global concrete market is worth approximately £500 billion annually.
However, it is one of the single biggest emitters of carbon dioxide accounting for up to 8% of global greenhouse gas emissions. The Mevocrete project is working with a revolutionary new construction material made using waste steel slag patented by Middlesbrough-based company Material Evolution Ltd.
A vast majority of waste materials from steel production are sent to landfill and it is estimated that in the UK alone there are 62 million tons of unused slag waste. Teesside University has won funding from Innovate UK to work with Material Evolution to help the business scale up its technology to create a full-scale on-site facility for cement production using waste steel slag at Teesworks.
Researchers from the university's school of computing, engineering and digital technologies will analyse the steel slag and its chemical composition and measure how efficient it is at sequestering carbon.
Next year will see the opening of Teesside University's £13.1 million Net Zero Industry Innovation Centre (NZIIC) which will be central to the Tees Valley Combined Authority's regional innovation strategy, positioning Teesside firmly at the heart of the UK's green industrial revolution.
The University's project lead, Dr Sina Rezaei Gomari, said: 'For the UK to meet its net-zero targets it is imperative that new ways to decarbonize the construction industry are found, and this project has the potential to have a major impact in reducing greenhouse gas emissions.'
Professor David Hughes, associate dean (research and innovation) and co-lead of the Mevocrete project, added: 'At Teesside University we are dedicated to finding new ways to forge a smarter, greener industrial economy. Therefore, we are delighted to be able to help Material Evolution create a circular approach to dealing with the historic waste material from the region's steel production while simultaneously reducing the carbon footprint of the construction industry.'
Dr Elizabeth Gilligan, founder and CEO of Material Evolution, also commented: 'We are really excited to be embarking on this project with Teesside University. The Mevocrete project examines the entire supply-chain from the feedstock to end-user. At the end of the project, we will have a dedicated Mevocrete production line, delivering a truly carbon negative cement which, importantly, will have been independently tested and verified.
'By utilizing our ultra-low energy alkali-fusion technology, and using hyper-local waste streams, we can eliminate the need for Ordinary Portland Cement in concrete products. The industry must have innovations like this if we are to meet our need to decarbonize rapidly and radically.'