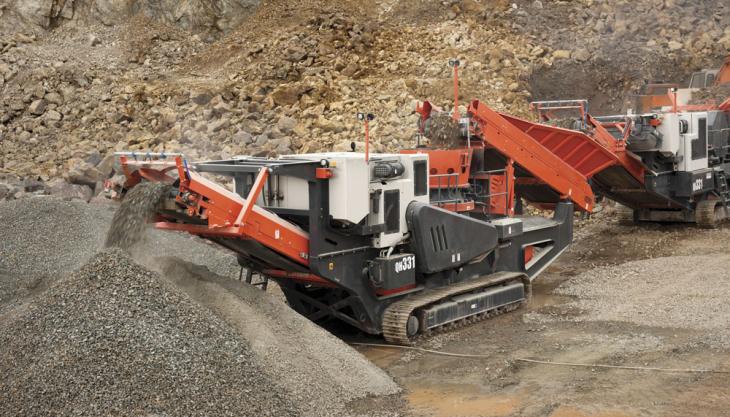 At the Hillhead exhibition in June, Sandvik Construction displayed and demonstrated some of their latest developments in crushing and screening technology. Among the new products on show were the QH331 cone crusher, UJ440i jaw crusher, HSI CI511/512 impact crusher and WR screening media.
As part of the redesigned U range of heavy mobile crushers, the UJ440i provides customers with a heavy, robust and 'intelligent' unit with the added benefit of meeting the combustion engine exhaust emissions legislation in Europe and the US. 
Due to the dimensions of the new Stage 3B/Tier 4i engines and after-treatment units, Sandvik are committed to making the necessary design changes to encase the engines with their latest range of mobile crushers. 
With the introduction of the new Stage 3B/Tier 4i engines, customers will benefit from fuel savings, thanks to a more efficient engine and lower operating costs. Operational upgrades on the new UJ440i crusher include: improved engine access for easier servicing and maintenance; hydraulically driven cooling fan and redesigned airflow providing energy-efficient cooling; a newly developed repositioned lockable isolator switch; and easy filter change incorporating a drip tray. 
Featuring a jaw size of 1,200mm x 800mm, the jaw crusher has the highest rates of production in its class and can be offered in three different varieties – Comfort (grizzly feeder), Classic (grizzly feeder and live under screen) and Trend (pan feeder and live pre-screen). 
Sandvik's enhanced QH331 track-mounted cone crusher is based on their QH330 predecessor but has been redesigned to provide customers with a more environmentally friendly, economical and efficient machine. The choice of having a Cat C9 (Stage 3A/Tier 3) or C9.3 (Stage 3B/Tier 4i) engine will reduce fuel consumption, while a direct drive replacing the previous hydraulic drive will help ensure the QH331 uses its power more efficiently and, consequently, improve its operational capabilities through tighter closed-side settings and larger bush variations.
Safety has been at the core of the development of the QH331, which has led to all standard models being fitted with a camera that oversees the crushing chamber, together with the fitting of a screen in the control cabinet. This provides the operator with greater safety and better control of the crusher, which, in turn, produces higher sustained output. 
The second generation of compact horizontal impact crushers from Sandvik has been designed to provide lowest operating cost per tonne, optimum performance and good cubical shape for a wide range of materials and applications. The all-new CI511/512 crusher combines the ability to configure one base crusher into either a primary or secondary arrangement, making it adaptable to ever-changing requirements. 
According to Sandvik, the HSI crusher incorporates a superior chamber design resulting in greater reduction ratios and allowing the unit to produce products with two curtains for greater breakage. 
The CI511/512 is equipped with an infinite hydraulic curtain adjustment combined with a brake-positioning system relieving pressure and setting when uncrushable objects enter the crusher. No hydraulic power is required during normal operation, thus saving on operating power and reducing total power consumption. 
A unique key safety interlock system ensures safe maintenance of the crusher, especially in multiple installations. The ability to raise curtains during operation without stopping the crusher to clear blockages and reset automatically to operating setting, maximizes uptime and reduces the need for heavy lifting gear and operator maintenance intervention, thus further reducing health and safety risks. 
In addition, thanks to easy access and combined with the facility to reverse and vertically lift the hammers, the maintenance of rotor and hammers is facilitated and requires minimum space. The high-mass open-design rotor ensures stable power consumption and the ability to handle re-bar in recycling applications.
The new Sandvik WR screening media has been developed for use on screens with longitudinal profiles. This helps aggregate producers increase production capacity while achieving highest levels of screening accuracy. 
Easy to install with no requirement for any screen modification, downtime is minimized, thereby providing aggregates suppliers with high production capacity, accurately sized material and increased operational efficiency leading to increased profitability.
At the heart of the WR screening media is an anti-blinding system; this allows the media to screen the most difficult of materials accurately and at high rates of production. The basis for this is a patent-pending production technique and pioneering design that gives an open production area greater than that found in traditional modular media. 
This is achieved through the use of cross-mounted flexible screen panels while a 'revolutionary wave like cascade effect' is generated in the material bed, which improves stratification and allows undersize material to find a more rapid path to the screening surface.